The Queen's Speech: What Is It And Why Is It Important?
12 June 2017, 16:44 | Updated: 28 October 2019, 15:53
There has been much talk of the Queen's Speech today and whether or not it'll be delayed - but what actually is the purpose of it?
It's due to take place next Monday - but is now expected to be stalled for a few days as talks continue between the Conservative and DUP.
The Queen's Speech is the centrepiece of the State Opening of Parliament.
In brief, it's a list of laws that the new government wants to get approval of over the next 12 months - marking the start of the Parliamentary year.
It also contains a list of foreign visits that the Queen plans to make for the year as well as the state visits to the UK.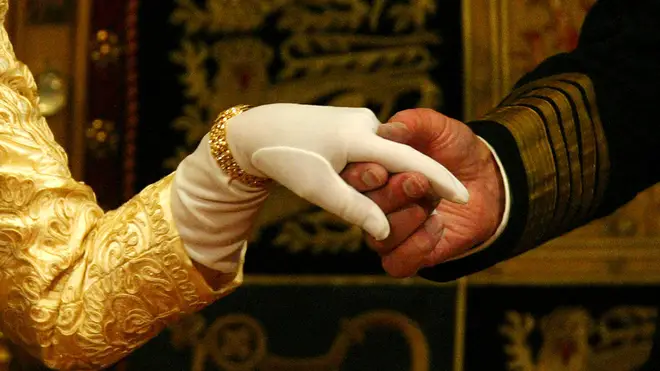 The speech is written on goatskin paper. Traditionally real goat skin was used - but nowadays no animal hide is used at all.
It does, however, keep its name as the paper still bears the watermark of a goat.
Set in the House of Lords, the Queen delivers the speech with MPs, peers and other dignitaries witnessing the occasion.
First Secretary of State Damian Green confirms there could be a delay to the Queen's Speech while agreement is sought with the DUP.

— LBC Breaking (@lbcbreaking) June 12, 2017
There is usually one Queen's Speech every year, but the Conservative-Lib Dem coalition bucked in the trend in 2011, claiming the complexity of its legislative programme would take two years to implement.
With her authority diminished after failing to secure a majority in the election last week, Mrs May faces the prospect of relying on the DUP to make sure the Queen's Speech passes.
She is meeting with the party's leader Arlene Foster on Tuesday to finalise a deal.
Read more: Theresa May delays Queen's Speech as she grapples to lead minority government