Indicative Votes Results: MPs Reject Eight Alternative Brexit Options
27 March 2019, 14:46 | Updated: 28 October 2019, 15:53
MPs have voted against all eight Brexit options - which were supposed to help break the deadlock in Parliament.
After Parliament voted for Oliver Letwin's amendment on Monday, a series of indicative votes on all possible paths forward were held.
But, none of the eight alternatives won a majority in the Commons.
There was an overwhelming majority who rejected the idea of a "no deal" scenario.
Another suggestion - for the UK to leave the EU and remain in a customs union - narrowly lost by 8 votes.
And a public referendum on any Brexit deal was also rejected, by 27 votes.
All of the results:
Sixteen options were tabled by MPs, but were whittled down to eight by Speaker John Bercow.
B) No deal - moved by Tory MP John Baron.
Result: Yes 160 - No 400 - Defeated
Agrees to leave the EU on 12 April without a deal.
D) Common market 2.0 - moved by Tory MP Nick Boles
Result: Yes 188 - No 283 - Defeated
Tabled by Conservatives Nick Boles, Robert Halfon and Andrew Percy and Labour's Stephen Kinnock, Lucy Powell and Diana Johnson. The motion proposes UK membership of the European Free Trade Association and European Economic Area.
H) Efta and EEA - moved by Tory MP George Eustice.
Result: Yes 65 - No 377 - Defeated
A motion tabled by Conservative MP George Eustice - who quit as agriculture minister this month to fight for Brexit - proposes remaining within the EEA and rejoining EFTA, but remaining outside a customs union with the EU.
J) Customs union - moved by Tory MP Ken Clarke.
Result: Yes 264 - No 272 - Defeated
Requires a commitment to negotiate a "permanent and comprehensive UK-wide customs union with the EU" in any Brexit deal. Tabled by veteran Conservative Europhile Ken Clarke, backed by Labour's Yvette Cooper.
K) Labour's alternative plan - moved by Labour leader Jeremy Corbyn.
Result: Yes 237 - No 307 - Defeated
Labour has tabled a motion proposing its plan for a close economic relationship with the EU. The plan includes a comprehensive customs union with a UK say on future trade deals, close alignment with the single market and matching new EU rights and protections.
L) Revocation to avoid no-deal - moved by SNP MP Joanna Cherry.
Result: Yes 184 - No 293 - Defeated
The SNP's Joanna Cherry's options calls on the government to revoke Article 50 if MPs do not approve a no-deal Brexit.
M) Confirmatory public vote - moved by Labour MP Dame Margaret Beckett.
Result: Yes 268 - No 295 - Defeated
Says the government cannot implement or ratify the withdrawal agreement and the political declaration unless and until it has been put back to the people and approved in a referendum.
O) Contingent preferential arrangements - moved by Tory MP Marcus Fysh.
Result: Yes 139 - No 422 - Defeated
AKA the Malthouse Plan B. Means the UK makes its budgetary contributions to the EU to the end of 2020 and agrees with the EU a period of two years in which UK goods have full access to the EU.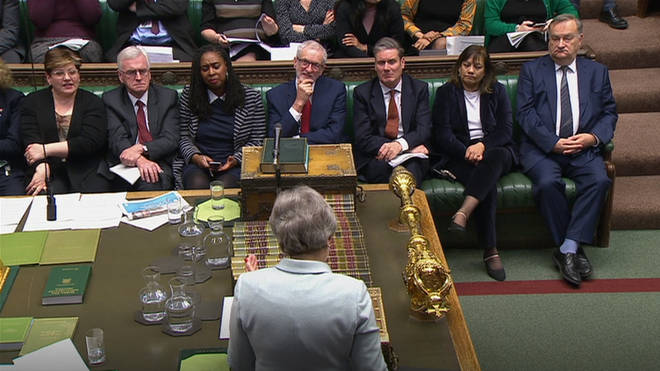 What are indicative votes?
Indicative votes are a way of testing whether there is a majority in the House of Commons for different options relating to one issue.
They are happening because parliament voted to secure parliamentary time for debate - which is usually controlled by the government.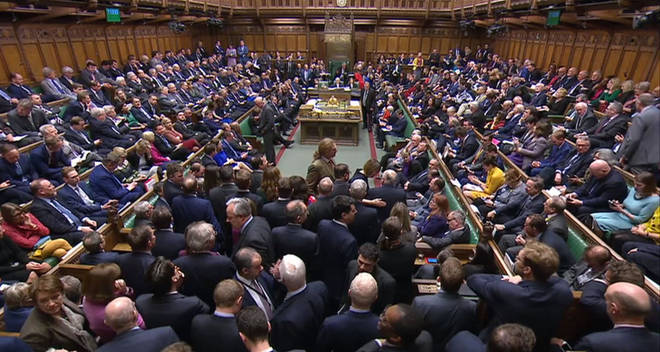 Were MPs whipped?
The Conservatives announced a free vote, meaning MPs would not be required to vote for what the party tells them to.
Meanwhile, Labour whipped MPs on certain bills, including the Beckett option to support a second referendum.
Does the government have to listen?
No, indicative votes aren't legally binding on the government's position. Mrs May said she is "sceptical" about the plan and cannot agree to guaranteeing implement the result.
But, as one former House of Commons clerk told LBC, it would be difficult for the Prime Minister to ignore."If an indicative vote does bring an alternative option for Brexit, the government does have a very stark political choice to make as to whether they can continue in office having been frustrated by the legislator," Eliot Wilson said.
Have indicative votes been held before?
Yes, the last time indicative votes were held was in 2003, when MPs voted on a number of different options on a reformed House of Lords.
However, the Commons ended up voting for two different options which were mutually exclusive but each claimed to be the way forward. It meant the status quo prevailed as the reforms were not passed.
"I don't think it's the silver bullet some people think it is," Mr Wilson said of indicative votes.