Trump Vs CNN: President In Extraordinary Row With Reporter At Press Conference
7 November 2018, 18:22 | Updated: 7 November 2018, 20:41
Donald Trump was involved in an extraordinary verbal exchange with a CNN reporter which resulted in the President telling him to "sit down".
The remarkable encounter came as the US President addressed journalists in the White House following the US Midterm elections.
As he took questions from correspondents on Wednesday, he became involved in a back-and-forth slanging match with CNN's Jim Acosta.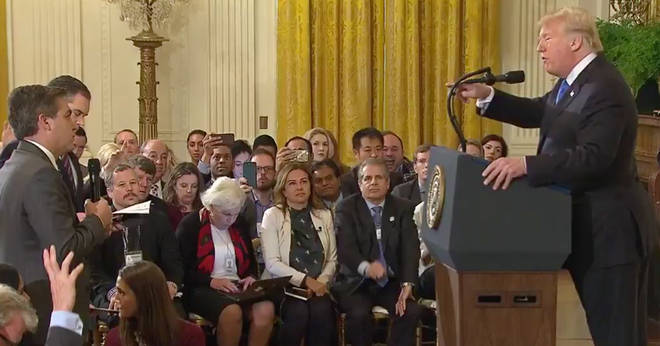 - What's The Difference Between The Senate And The House Of Representatives?
"CNN should be ashamed of itself having you work for them," the President told the reporter.
"You are a rude terrible person. You shouldn't be working for CNN".
He added: "When you report fake news, which CNN does a lot, you are the enemy of the people."
It followed a question from Acosta over the migrant caravan and why the president had described it as an "invasion".
"I think you should let me run the country and you run CNN," the President bit back.
"If you did it well, your ratings would be much better".
Giving his reaction on LBC, Nigel Farage responded: "You either laugh at it or you're appalled by it, but I think folks any attempt at the softer tone is going to be a complete waste of time."