President Trump Mocks Kavanaugh Accuser Christine Blasey Ford
3 October 2018, 08:19 | Updated: 3 October 2018, 08:25
Donald Trump has openly mocked the doctor who claims she was sexually assaulted by his nominee for the Supreme Court.
The President of the US ridiculed the Professor's lack of memories from the day in which she says Brett Kavanaugh sexually assaulted her.
At a Senate hearing last week, Dr Ford described attending a house party in the Washington DC suburbs in the early 1980s at which she was pushed into a bedroom where a drunken Kavanaugh held her down, groped her, tried to strip her and left her fearing for her life. Kavanaugh angrily denied the incident.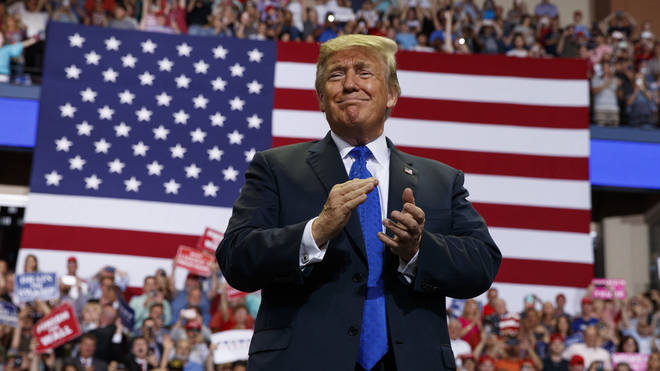 Trump has previously backed Kavanaugh, but speaking at a rally in Mississippi in front of cheering fans, he took aim at the accuser, with a question and answer monologue: "36 years ago, what he's going through. 'I had one beer'.
"How did you get home? I don't remember.
"How did you get there? I don't remember.
"Where is the place? I don't remember.
"How many years ago was it? I don't know.
"What neighbourhood was it in? I don't know.
"Where's the house? I don't know.
"Upstairs, downstairs, where I was. I don't know.
"But I had one beer. That's the only thing I remember.
"And a man's life is in tatters."
People on Twitter reacted in shock to Trump's outburst with shock.
It's also an attack designed to cause maximum pain to Ford. What traumatized her most? "The uproarious laughter" of Kavanaugh and Judge. So Trump makes a mockery of her. It's pointed, sickening cruelty.

— Sarah Kendzior (@sarahkendzior) October 3, 2018
Last week Dr. Ford showed unmatched courage — tonight, Trump showed that the only thing he can offer is unimaginable cowardice.

— Tom Perez (@TomPerez) October 3, 2018