"Truth Isn't Truth": Trump's Lawyer Rudy Guiliani Ridiculed After TV Interview
20 August 2018, 08:10 | Updated: 20 August 2018, 08:16
A TV host was left with his head in his hands after Donald Trump's lawyer Rudy Guiliani told him that "truth isn't truth".
The former Mayor of New York was on NBC's Meet The Press, arguing that the President should not testify to the Russia probe, as he might be "trapped into perjury".
But when the host insisted that "truth is truth", things took a bizarre turn.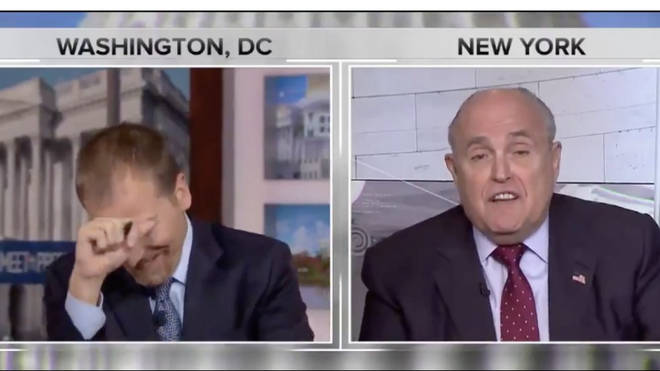 It started when Mr Guiliani said: "Look, I'm not going to be rushed into having him testify so that he gets trapped into perjury.
"And when you tell me that, you know, he should testify because he's going to tell the truth and he shouldn't worry, well that's so silly because it's someone's version of truth. Not the truth."
Host Mr Todd interrupted, saying: "Truth is truth."
But Mr Guiliani hit back: "No, it isn't truth. Truth isn't truth."
People on Twitter were quick to jump on the quotes.
I just tried "truth isn't truth" on my bathroom scale.

— Randi Mayem Singer (@rmayemsinger) August 19, 2018
War is peace.
Freedom is slavery.
Ignorance is strength.
Truth isn't truth.

— Paul Krugman (@paulkrugman) August 19, 2018
It follows on from Trump's Campaign Chief Kellyanne Conway, who described the Press Secretary's comments as "alternative facts".