Tonight with Andrew Marr 15/11 | Watch Again
15 November 2023, 21:42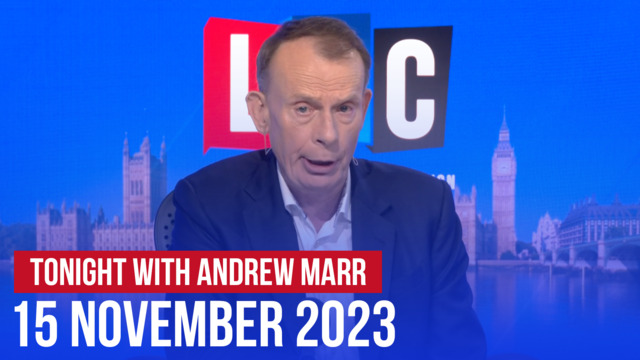 Tonight with Andrew Marr 15/11 | Watch Again
You can watch Wednesday's Tonight with Andrew Marr in full again here.
Andrew Marr was joined by:
Jonathan Gullis - Conservative MP for Stoke-on-Trent North
Natasha Clark - LBC's Political Editor
Jonathan Reynolds - Shadow Secretary of State for Business and Trade and Labour MP for Stalybridge and Hyde
Mish Rahman - Labour NEC Member who is leading the campaign 'Labour for a Ceasefire Now'
Stephanie Flanders - Economist and Senior Executive Editor at Bloomberg
Brendan Cox - Campaigner and Co-founder of 'Survivors Against Terror' whose wife Jo Cox was murdered in a terrorist attack in June 2016.
Robert Jenrick - Minister of State for Immigration & Conservative MP for Newark
Watch Tonight with Andrew Marr exclusively on Global Player every Monday to Thursday from 6pm to 7pm.