Things we don't own any more: London
18 March 2017, 21:01 | Updated: 18 March 2017, 21:23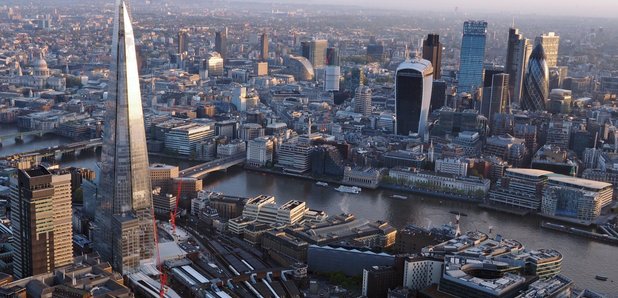 Now that Article 50 is about to be triggered and those that wish to thwart Brexit have been vanquished, can we go back to a time when no-one ever used the word "thwart"?
Seriously, where did that come from? It's as anachronistic as a train announcer saying that passengers may "alight" at the next station for connections to Penge.
I realise some people would like to go back to when Britain was great (1953) but do we have to use the language of the time as well?
The good old days are gone and were not that good anyway. Mostly they are fondly remembered because that is when we were young and better looking and had more hair coming out of our scalps than our ears.
As an indication that times have moved on, a question: who owns the largest chunk of London, our fair capital city?
An educated guess might be the Queen but that would not be correct. Not by a long chalk, and good thing too. The repair bill for Buckingham Palace alone is costing about as much as buying the world's most expensive, misfiring Manchester United football player and one of Philip Green's bigger boats. If she owned any more, we couldn't afford it.
So, if it is not the Queen, who owns the most in London?
Perhaps you are thinking it must be the Duke of Westminster, by which I mean Major General Gerald Cavendish Grosvenor, 6th Duke of Westminster, KG CB CVO OBE TD CD DL.
If he had any more letters after his name we would have to get a bigger alphabet.
He owns loads of London because he worked his way up from the bottom and fashioned a property empire from nothing. Or his dad gave it to him, one or the other, but it isn't him either.
Maybe it's the Earl of Cadogan. He's super rich. He owns Chelsea, by which I mean the actual place and not just the football team.
He did it the aristocratic way as well, by having a distant relative who bought the land when you could still find room to park your horse.
But it isn't him either. No, the owner of the biggest parcel of property in London is the royal family of Qatar, the quite un-British place which sounds like something smokers cough up in the morning but is actually a spit of land about half the size of Wales, off the coast of God-knows-where in a place that's too hot to live in. Even camels say, "to hell with this, I'm going to Africa".
Every summer the Qataris come to London to visit the places they already own and to size up what little is left that they don't.
If it is big and shiny and they can see it through the windows of their luminous green Lamborghinis, they'll buy it.
They already own Canary Wharf, not the wharf itself but all of it - everything that you see when you get out of the Tube.
They own the skyscrapers, the bars, the shops, everything.
Then there's the British Olympic village, which was the site of our glorious games, during which supreme British athletes suffering from debilitating asthma managed to find enough totally legal medicine to pull in a record medals haul for Her Majesty's Team GB.
I don't recall the Qataris winning any medals there, but now they own that too.
They also own the Shard, the tallest building in the country. In fact, they have a great love for tall, thrusting, phallic buildings that only Donald Trump match.
The massive plot that was the Chelsea Barracks is theirs too. It will soon be a much needed complex of tiny executive flatlets for millionaires to park the money that they haven't invested in highly complex off-shore tax havens.
In total, according to a commercial property data company called Datscha, the Qataris own 21.5m sq ft of London's most prime space, which is a lot. You wouldn't want to have to paint it.
The Queen, meanwhile, has to squeeze herself into just a third of that - 7.3m sq feet.
It is still enough run-around room for the corgis but is a bit embarrassing for us proud Brits who used to run Qatar until the 1970s.
It was a place that used to make most of its money fishing and diving for pearls before they discovered that millions of years ago a mighty forest once stood there and under their feet was so much oil and gas that they leapt out of the third world and put a firm down-payment on the first.
Thank goodness, now that Brexit is happening, that we have got our country back.