An Angry Nigel Farage Turns On Tory Eurosceptics Over Brexit
18 October 2018, 19:54 | Updated: 18 October 2018, 19:58
Nigel Farage has turned on Conservative Eurosceptics over their "inaction" to remove Theresa May as leader and rescue the Brexit negotiations.
The LBC presenter and former Ukip leader was fuming that the Prime Minister may agree to extend the transition period beyond 2020.
Mrs May insists it may be necessary to solve the Irish border question.
Broadcasting from the EU Parliament in Brussels, Nigel was seething.
And he was particularly unhappy with Conservative Eurosceptics for not challenging Mrs May's leadership.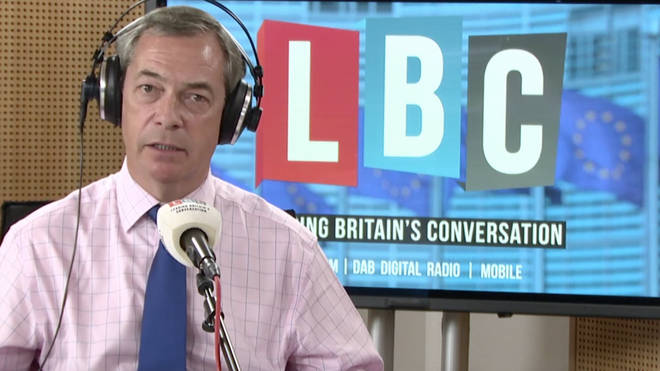 He boomed: "Folks she ignored you completely yesterday, and that's exactly what she'll do at the December summit.
"She will sign up to something probably even worse than we've seen so far.
"So can I ask you all a question?
"When will you stop urging the Prime Minister to change direction and actually have the guts to stand up and say: 'In the name of God go, you are a disaster as Prime Minister and you are betraying Brexit.
"So far they can't even muster 48 letters it's a mystery to me."