Nigel Farage Dismantles PM's Brexit Political Declaration Line-By-Line
22 November 2018, 19:47 | Updated: 22 November 2018, 19:53
Nigel Farage has given his scathing take on Theresa May's Brexit political declaration, describing it as a "child's wish list to Father Christmas".
The LBC presenter and former Ukip leader picked out key points from the text - hailed as "right for the whole of the UK" by the Prime Minister.
The declaration is separate from the 585-page EU withdrawal agreement agreed last week.
Instead, the 26-page declaration outlines how UK-EU trade, security and other issues will work - but it's not legally binding.
Mrs May told MPs it would deliver the Brexit people voted for - but Nigel was not so sure.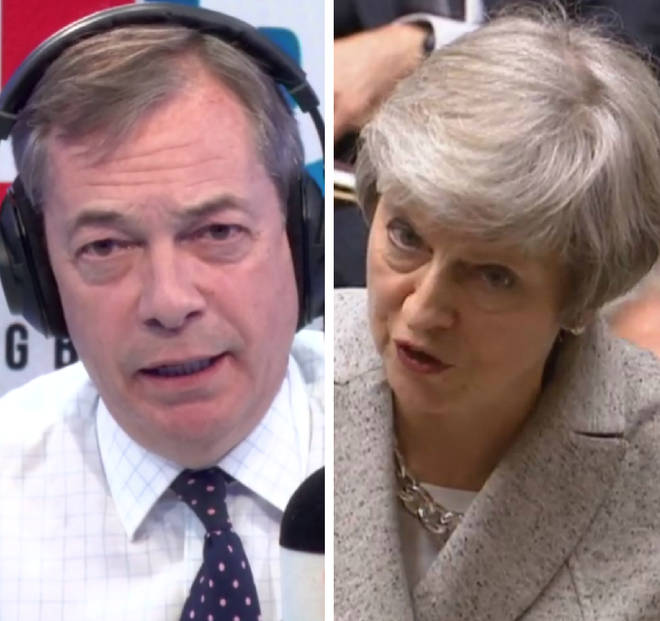 He gave his instant response to some of the Prime Minister's claims about what the declaration achieved, including:
- This is a good deal for our country and our partners in the EU
- It ends free movement once and for all with a new skills-based system introduced
- It ends the jurisdiction of the European Court of Justice in the UK
- An end to sending vast sums of money to the EU
- The deal would mean we leave the Common Agricultural Policy and the Common Fisheries Policy
- New arrangements for our financial services sector
- We would have the ability to sign new trade deals with other countries
And after his mammoth analysis, he concluded: "Once again it is Theresa May standing up in the House of Commons saying a lot of things voters want to hear but when you drill down into the detail non of it holds true."
Watch Nigel's take above and see if you agree.