Nigel Farage's Instant Reaction As Trump Pulls US Out Of Iran Nuclear Deal
8 May 2018, 20:22
Donald Trump is to pull the US out of the Iran nuclear deal - and this was Nigel Farage's instant reaction.
The US President said the accord, agreed in 2015 under the Obama administration, was "horrible" and "one-sided".
It was put in place to prevent Iran obtaining nuclear weapons in exchange for tough economic sanctions on Tehran being lifted.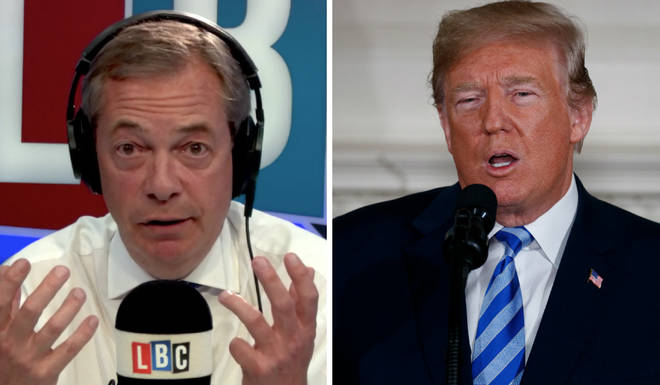 - Explained: What is the Iran nuclear deal?
Donald Trump's decision was met with "regret" by France, Germany and the UK who issued a joint statement.
Giving his reaction moments after the news broke on LBC, Nigel backed the US President's announcement.
"I think the subtext there is very clear that he would like the Iranian people to rise up and get rid of that regime," he said.
"If you read the words on the page that Trump just delivered they are tough, uncompromising words but actually delivered in a very measured, very calm tone.
"It's kind of a different, more confident Donald Trump I think in many, many ways."