Sadiq Khan Admits The Garden Bridge's £50m Has Already Been Spent And Lost
8 August 2017, 13:30 | Updated: 8 August 2017, 15:46
Sadiq Khan has admitted there is almost no chance of recovering £50m of taxpayers' cash that was spent on the doomed Garden Bridge project.
The Mayor of London said the deal struck by his predecessor Boris Johnson on the controversial tree-lined bridge "beggared belief".
Earlier this year Mr Khan announced he was pulling the plug on the leafy Thames crossing, which was expected to cost £200m.
However, speaking to James O'Brien during his regular phone-in on LBC, the Mayor said money committed by Mr Johnson and George Osborne from the Greater London Authority and the Department for Transport had already been spent.
"The money that Boris Johnson gave to the [Garden Bridge] Trust has been spent by the Trust," Mr Khan said.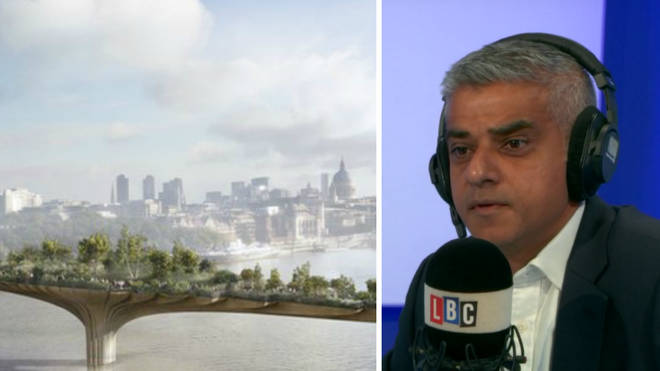 In a recent report, the former chair of the Public Accounts Committee, Margaret Hodge, concluded that it was better value to write off the money already spent, rather than continue with the project.
The Garden Bridge, which would have sat between Temple station and the South Bank, was originally set to be 100 per cent funded by private sector donors.
Mr Khan continued: "One of the criticisms of Dame Margaret Hodge in her report was the fact that there was no incentive for those who pledged money, these rich donors, to actually give the money over.
"These were pledges not actual money.
"As a consequence of the deal made by the previous Mayor, monies were given by him and by the Government and that money has been spent."
James asked whether the taxpayer should "wave goodbye" to the £50m.
Mr Khan responded: "It does look that way, yes, because the money has been spent."
You can read more about LBC's in-depth investigation into the demise of the Garden Bridge here.