Storm Atiyah causes travel chaos just days before general election
9 December 2019, 16:03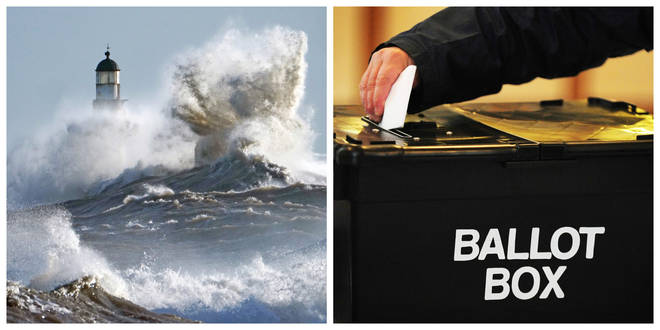 Storm Atiyah has hit Ireland, Wales and southwest England, causing travel disruption in the run up to the general election.
More than a dozen flights had to be cancelled or diverted from Cork airport after winds reached 79mph on Sunday evening.
The storm has also caused power cuts in several areas across Ireland and Wales.
Flights had to be diverted to Dublin and Shannon airports after winds in Cork became unsafe for landing.
People took to social media to explain the problems the weather had caused with some even saying it could affect their ability to go out and cast their vote on Thursday.
One tweeted: "I'll apologize now, but if we do have really bad weather then I will not be able to venture out in it to vote."
Another echoed their thoughts and said: "Not only are we in Shannon Airport instead of Cork - we're also soaked!!"
Karlis Dzjamko explained: "There is powerful wind force coming from the ocean which is bringing the water onto pavements and road."
Storm Atiyah has also caused problems on the railways, with passengers told to expect delays.
Both National Rail and Irish Rail imposed speed restrictions overnight.
Irish Rail tweeted: "As a precaution due to Storm Atiyah Red Weather Alert, from 14.00hrs until further notice, trains will operate at a reduced max speed of 50mph/80kph."
The Met Office has put a yellow weather warning in place for Wales and southwest England.
There are also flood alerts in place for southwest England.
The bad weather comes just before voters cast their ballots on Thursday.
Winds of up to 30mph will batter Britain on general election day, according to the Met Office.
Heavy downpours are expected throughout the UK, with particularly bad rain across southern England.
Snowfall is also possible in areas of Scotland and northern England.
Met Office forecaster Simon Partridge said: "Thursday starts off generally dry, with a fairly chilly start, so actually quite a nice start to the day away from the far West.
"But unfortunately the rain will push in from the West over the morning so it is going to be a wet and windy day.
"We've got an area of low pressure moving across the UK on Thursday which will bring outbreaks of rain to all parts through the day, locally heavy at times, particularly down towards the West and the South West, particularly in areas of higher ground."
He continued: "It will be fairly windy as well, so we could see winds around 20mph - some gusts a little bit stronger than that, up to 30mph or so.
"It's not going to be the nicest of days to be outside."
The poor conditions, coupled with the reduced daylight hours of December, may cause a low turnout, especially for the older population.
This could be a particular problem for the Tories, who benefit the most from the grey vote.