Brentford fans sentenced for pre-arranged fight against Millwall supporters
11 November 2019, 21:45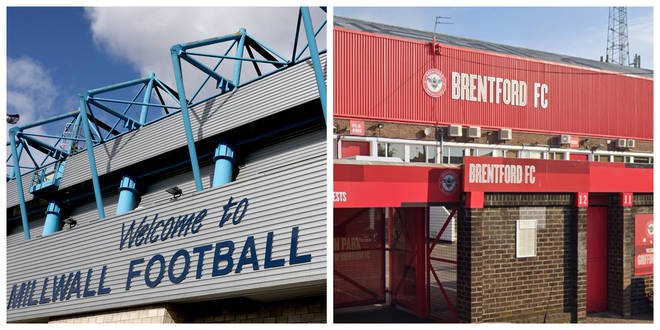 Six Brentford Football Club supporters have been sentenced for their part in a pre-arranged fight against Millwall fans on public wasteland.
Footage posted on Youtube of the pre-arranged fight showed the opposing groups exchanging punches, kicks slaps and pushing each other while shouting verbal abuse.
The brawl featured two referees and a cameraman, and occasionally when someone was knocked to the ground, the fight would be stopped to allow participants to 'reset'.
To make each side identifiable, the Millwall supporters wore tops and the Brentford supporters went topless.
Joel Titus, 28, Guy Claxton, 25, Szymon Kacki, 28, Harry Hackett, 24, Nathan Mills, 22, and Harry Farnan, 23, were all sentenced for one count of affray at Isleworth Crown Court Monday.
They had all previously pleaded guilty to the charge.
Titus was sentenced to 12 months imprisonment suspended for two years and 200 hours of unpaid work.
Hackett was sentenced to seven months imprisonment suspended for 18 months with 100 hours of unpaid work.
Claxton, Kacki, Mills and Farnan received one-year community orders with 100 hours of unpaid work each to be completed.
All of the men were ordered to pay costs of £650.
The fight took place on wasteland between Crane Park in Hounslow and Leitrim Park in Hanworth on 25 August 2018.
Fiona Whillis, from the CPS, said: "This was a pre-planned fight between two rival groups of football supporters who were abiding by some form of combat rules.
"The Millwall group wore clothing on their upper halves and the Brentford group were topless, no doubt to allow participants to easily identify their opponents.
"Organised fighting is illegal without a proper licence and these defendants went against the law by engaging in this behaviour, which could have resulted in serious injuries had the fight escalated."