CCTV: The Moment Teenager Deliberately Ran Over Two Women
19 October 2018, 07:26 | Updated: 28 October 2019, 15:21
This is the moment a teenager deliberately ran over two women repeatedly outside a nightclub.
The 19-year-old drove into a crowd outside a nightclub in Newport, Wales, mounting a curb and driving over his two victims.
After the car clipped one of the pedestrians, a group surrounds the Ford C-Max, trying to get into the car.
The people carrier then darted forwards towards a group of people, including Sophie Poole and Emma Nicholls, who were sitting on a kerb.
He ran them over, before going into reverse and going over them again. He moves forward, running them over one more time.
Furious onlookers tried to smash the windscreen, so Cox accelerated away, narrowly missing more pedestrians. The car was found nearby having been set on fire.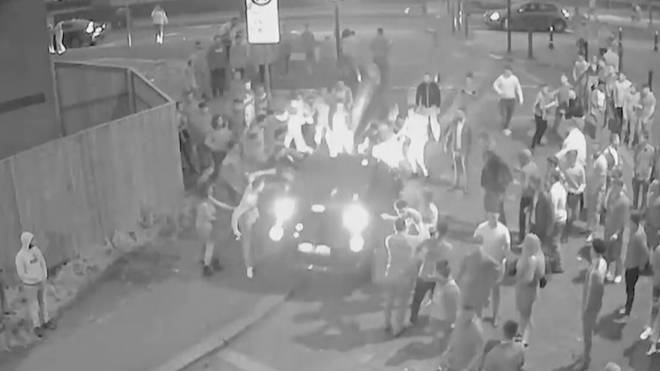 He has been jailed for 12 years for the attack.
Following the verdict, Kelly Huggins of the CPS said: "McCauley Cox used his vehicle as a weapon and caused an incident which left his victims with serious injuries.
"The CPS showed in court that his actions in driving his car into the crowd and reversing over those injured on two occasions amounted to this serious offence.
"Evidence included CCTV footage showing the incident and its aftermath where Cox showed no regard for those he had injured. "Our thoughts are with the victims as they recover from their injuries."