Donald Trump Visit To UK: Full Schedule Of US President's Trip And Protests
12 July 2018, 07:42 | Updated: 12 July 2018, 10:32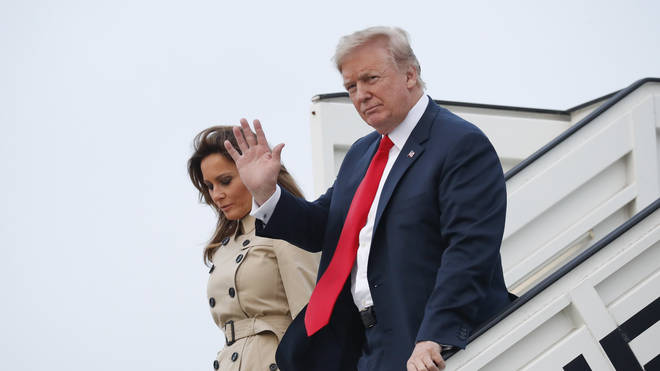 Donald Trump arrives in Britain today for a working visit. This is his full schedule.
Mr Trump is largely avoiding central London, where main protests will take place, instead visiting Blenheim Palace, Chequers, and Windsor Castle.
Thousands of police officers will be on duty for the biggest UK police operation since the August 2011 riots.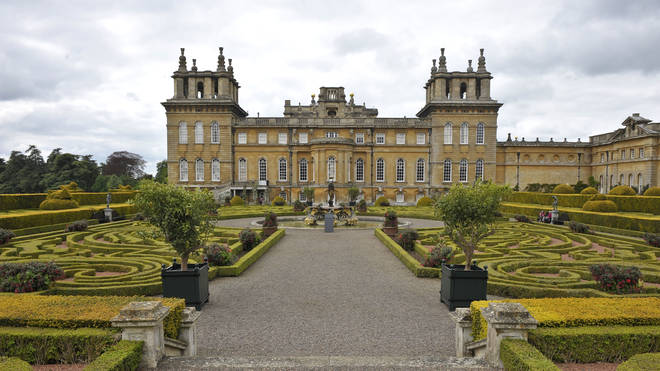 Thursday 12th July
Early afternoon
Donald Trump will land in Britain after flying in from the NATO summit. He will be met by Dr Liam Fox.
Evening
The Prime Minister will host President Trump and the First Lady for a black tie dinner at Blenheim Palace in the evening.
The event will begin with a military ceremony in the Great Court performed by the bands of the Scots, Irish and Welsh Guards. The bands will play the Liberty Fanfare, Amazing Grace, and the National Emblem. Other guests at the dinner include leaders from business sectors including representatives from financial services, the creative industries and the food and drink sector, celebrating the business links between the UK and US.
Overnight
The President and the First Lady will stay at Winfield House, the US Ambassador's Residence in Regent's Park.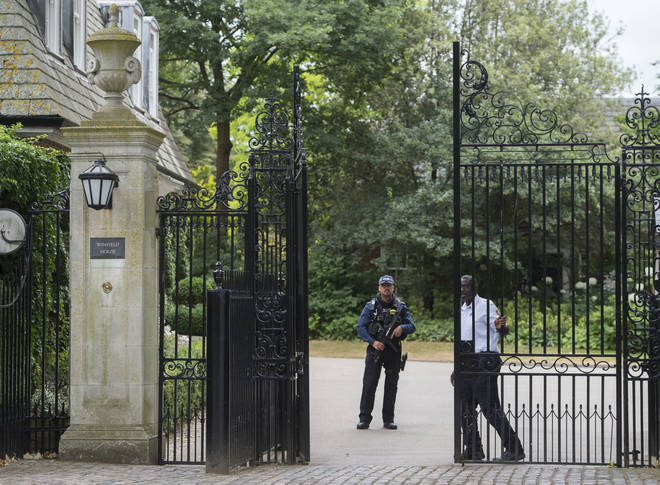 Friday 13th July
Morning
The President and the Prime Minister will visit a defence site to witness a demonstration of the UK's cutting edge military capabilities and integrated UK-US military training.
They will then travel to Chequers for bilateral talks on a range of foreign policy issues. This will include a working lunch.
Afternoon
Theresa May and Donald Trump will host a joint press conference.
The President and First Lady will then travel to Windsor Castle to meet The Queen. The Queen and Mr Trump will inspect the Guard of Honour before watching the military march past. Mr and Mrs Trump will then join the Queen for tea at the Castle.
Evening
The Trumps will travel to Scotland, where they will spend the weekend. He will be welcomed by David Mundell, the Secretary of State for Scotland.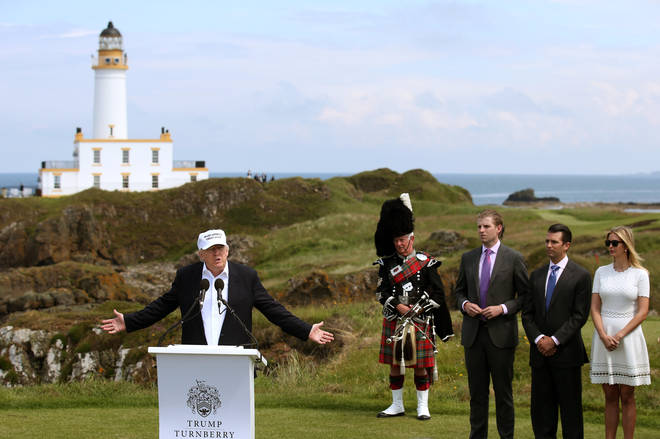 Saturday 14th July
There has been no official confirmation of their official schedule, but Mr Trump is believed to be spending the weekend playing golf at his Turnberry resort in South Ayrshire, which he bought in 2014.
Sunday 15th July
Donald and Melania Trump will fly home on Air Force One on Sunday evening.
Anti-Trump Protest
Thousands are expected to attend a protest against the President's visit to Britain.
Thursday 12th July
A Go Home van will be driven around Westminster during the afternoon.
At 5.30pm, there will be a protest at Regent's Park, outside the US Ambassador's residence where the US President is staying overnight.
Friday 13th July
Around 50,000 demonstrators will make their way through London on the "Stop Trump" march before a large rally takes place in Trafalgar Square.
The protest will start at Portland Place at 2pm, heading through Oxford Circus and down Regent Street before ending in Trafalgar Square. A rally will take place in the square from 5pm to 7pm. 
Protests will also take place across the country, including in George Square, Glasgow and Albert Square, Manchester.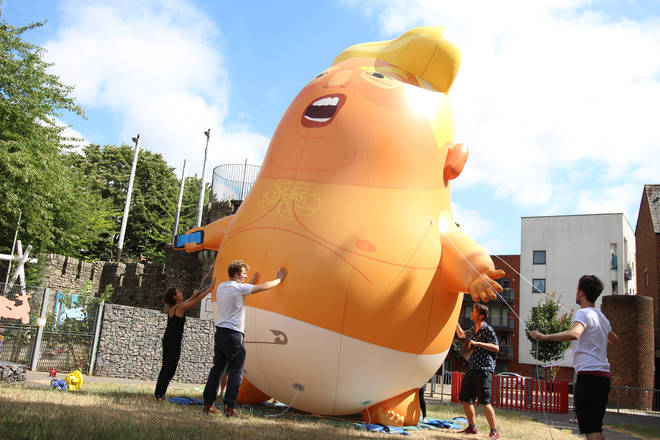 The Trump Baby Balloon Protest
Protesters had a successful crowdfunding campaign to create a giant balloon of Donald Trump as an angry baby, which will be flown over London on Friday 13th July.
London Mayor Sadiq Khan gave permission for the helium-filled six-metre high balloon to fly.
The balloon will be hoisted up in Parliament Square Gardens in Westminster, next to the Houses of Parliament.
It is not known how high the balloon will be flown in the air.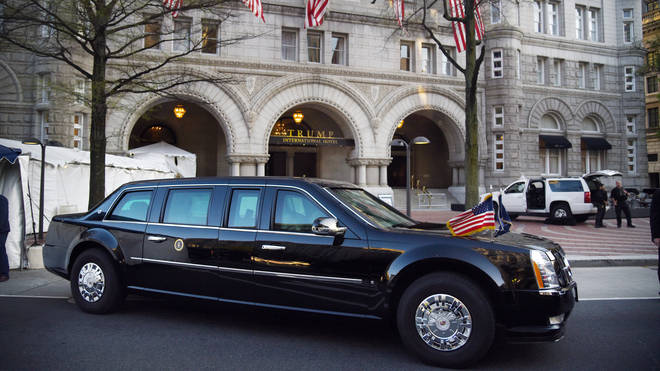 Donald Trump's Entourage
The US President is going to be accompanied by 1,000 staff for his working visit to Britain.
He will arrive on Air Force One, before being driven around in The Beast.
That is his seven-seat black armoured limousine, which can be turned into a sealed panic room with oxygen tanks, night-vision camera and has reinforced steel plating.
Staff involved in an overseas trip such as this include Secret Service post-standers, military communications specialists and White House aides.
At all times, the President will be accompanied by a White House doctor and one of five rotating military aides who carry the nuclear "football" - equipped with communication tools and a book with prepared war plans.