M&S Guard Body Slams Big Issue Seller In Front Of Shocked Onlookers
18 October 2017, 14:01
This is the brutal moment a Marks & Spencer security guard body slammed a Big Issue seller in the middle of a busy London street.
Onlookers watched in horror as the pair wrestled outside the store in Covent Garden, Central London.
The scuffle broke out after the vendor reportedly refused to return to the shop for questioning.
He can be heard screaming "get off me" as he desperately tries to escape the guard's clutches amid the commotion.
At one point, the M&S employee is seen grabbing the man by the neck and pulling him to the pavement.
Witnesses gasp as the man is then thrown off the kerb and slammed on to the concrete.
The video surfaced on social media earlier this week, but a spokesman for Marks & Spencer said the incident took place more than a year ago.
In a statement, the company said the guard no longer works for the store and branded the behaviour "completely unacceptable".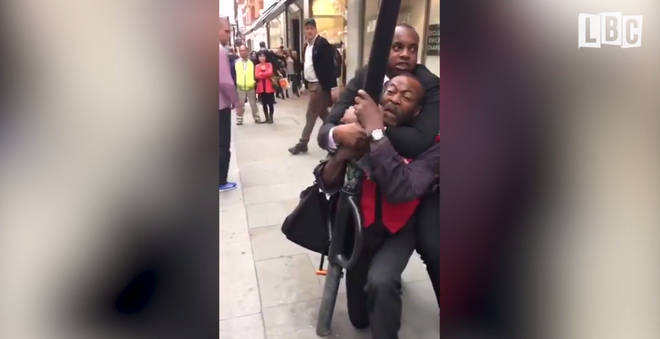 A spokesman said: "This incident took place over a year ago but was not reported to us at the time. Nonetheless, we've launched an immediate investigation into the incident.
"This security guard no longer works on behalf of M&S and we are taking appropriate actions to ensure that this behaviour doesn't happen again."
It's not known what the Big Issue seller was accused of.