Fifty Three Arrests At 'Million Mask March' In London
5 November 2016, 18:03 | Updated: 6 November 2016, 08:05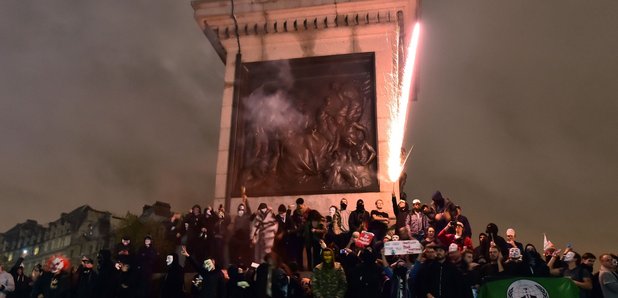 Protestors descended on Central London on Saturday night for a Million Mask March, with police arresting 53 people for various offences.
Last year's event was marred by serious violence, with police cars being set on fire and over 50 arrests.
Someone just set off a firework around 5metres away from us. Police started moving through the crowd @LBC #MillionMaskMarch pic.twitter.com/O5WE0wqGDM

— Charlotte Wright (@LBC_Charlotte) November 5, 2016
"We have seen the capital, profit and greed of the few put before the well-being of the many and we say enough is enough," the organisers Anonymous said on the group's Facebook page. Nine thousand people are attending the event according to social media.
#millionmaskmarch sets off down Whitehall @LBC pic.twitter.com/9ObOueIvUm

— Charlotte Wright (@LBC_Charlotte) November 5, 2016
The group's organisers told attendees that; "the police are not your friends, this goes for police liaison officers too, they're simply a 'friendly face' who collect intelligence."
Commander BJ Harrington of the Met's Public Order Command said: "I would like to commend my officers policing this challenging event for their professionalism and faultless co-ordination.
"I would also like to thank those participants who conducted themselves in a peaceful manner as well as Londoners and those visiting our city for their patience and tolerance.
"We facilitate hundreds of peaceful protests every year in London usually with the co-operation of the organisers. On this occasion although the organisers did not engage with police, the majority of protesters did adhere to the conditions imposed. Only a small minority chose to breach the conditions and engage in criminality."