More Southern Rail Delays As Carriage Gets Stuck On A Crossroads
22 December 2016, 08:11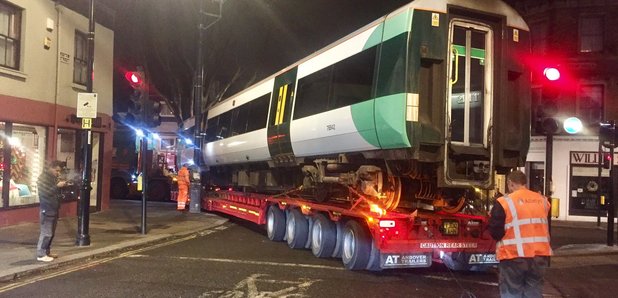 There were more delays for long-suffering Southern Rail commuters after a carriage got stuck when it was being transported on a road.
Picture: Luke Alexander
The carriage got wedged between traffic lights as it was transported through Crystal Palace in south London.
Luke Alexander, who works at a bar opposite the crossroads, tweeted: "Truck carrying a Southern train carriage has jammed itself in at the top of Crystal Palace and is holding up all traffic! Oh the irony!!!"
The carriage was stuck for half an hour before it was eventually freed.
It is the latest shambles for Southern Rail, whose service has been decimated in a row between management and unions over driver-operated doors.