Sixth Man Arrested Over Sickening Grenfell Tower Bonfire Video
5 November 2018, 14:46 | Updated: 6 November 2018, 17:32
A sixth man has been arrested after footage surfaced of a group of people cheering and laughing as they torched an effigy of Grenfell Tower at a Bonfire Night party.
Five of the men, aged between 19 and 55, handed themselves in to a south London police station late on Monday night following uproar about the video.
A sixth person, a 19-year-old man, was arrested under section 4a of the Public Order Act after he attended a south London police station on Tuesday,
They all remain in custody.
The cardboard model had drawings of people, including one woman in a burka, stuck on the front of what was made to look like windows.
The crowd of people could be heard shouting "stay in your flat" and "help me, help me" as the Grenfell Tower effigy went up in flames on the bonfire.
At one point, one person said: "Didn't it start of the 10th floor? We should have turned it upside down".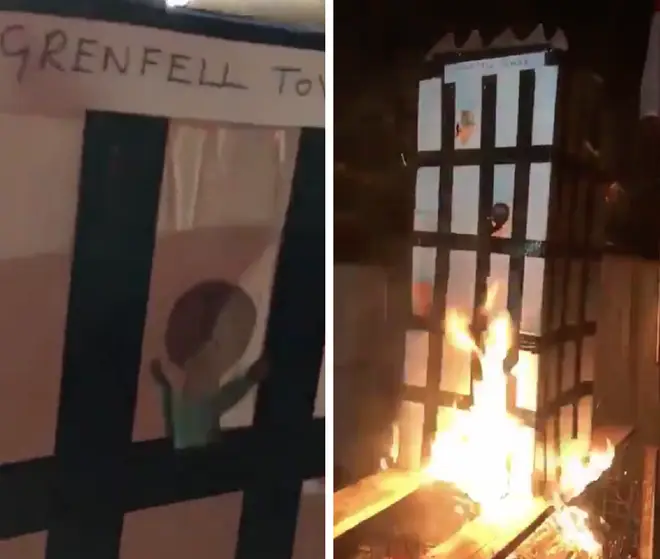 Theresa May described the video as "utterly unacceptable", while London Fire Commissioner Dany Cotton said it was "appalling and disturbing".
The shocking footage surfaced after it was reported to the Met Police on social media.
"I want these beasts prosecuted," Kay Oldroyd who shared the video wrote.
"Flying the English flag and enjoying a good old laugh at the expense of 100's of lives who died in the most horrific way.
"This is the sick mentality of racist, bigoted individuals.
"As much as I hate to share this video I want them identified."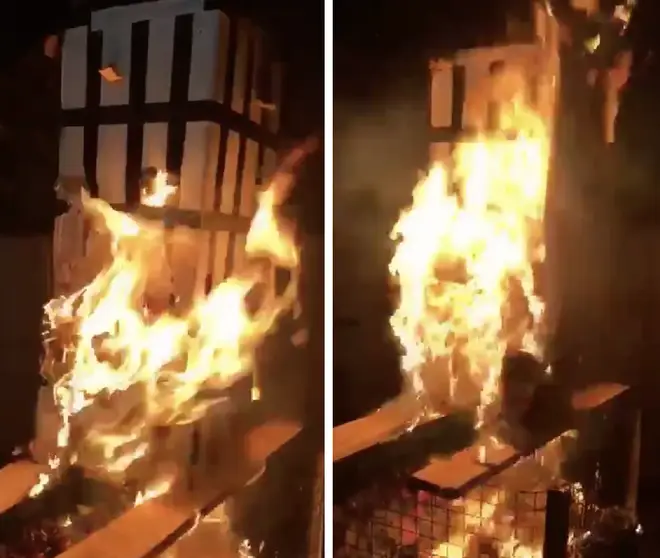 She said the video had been circulated on WhatsApp - but added the original source of the video is not known.
Seventy-two people were killed in the deadly Grenfell Tower blaze in June 2017.