Majority Back Independent Scotland Over Staying In UK After Brexit: Poll
9 December 2018, 07:01 | Updated: 9 December 2018, 07:13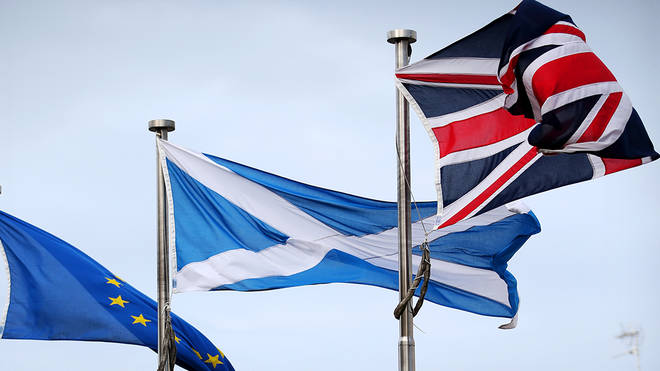 A majority of Scots believe Scottish independence would be better for the country than staying part of the United Kingdom after Brexit, a new poll finds.
A Panelbase poll for LBC and The Sunday Times Scotland, ahead of the vote in Parliament for Theresa May's withdrawal bill, found that more people believe leaving the EU will have negative consequences for Scotland.
Nearly 59% believe Scottish independence would be better than a no-deal Brexit, and 53% say that independence would benefit the country more than staying in the UK outside the EU under a negotiated Brexit deal.
However there is still a hesitance to vote for independence - it is now backed by 47%, the highest level in two years for the polling company, but 53% still prefer Scotland to remain in the United Kingdom.
The poll also found that just over half of Scots would support a new general election if the Prime Minister was unsuccessful in passing her withdrawal agreement in the meaningful vote, while 32% are opposed to a general election and 18% don't know.
But 54% say Theresa May should resign if defeated in the vote, with only 29% suggestions she could hang on as Prime Minister.
It comes after the SNP's leader in Westminster said that Scotland could seek a referendum if the government continue to take the UK out of the European Union.
Speaking to Andrew Castle, Ian Blackford said: "We have no real desire in Scotland to be taken out of the European Union against our will.
"And if that is where we end up, then we need to think about what options are open to us."
One of the options would be that Scotland has a referendum on its constitutional future."