London's New Year's Eve fireworks cancelled due to pandemic, Sadiq Khan confirms
18 September 2020, 10:36 | Updated: 18 September 2020, 15:45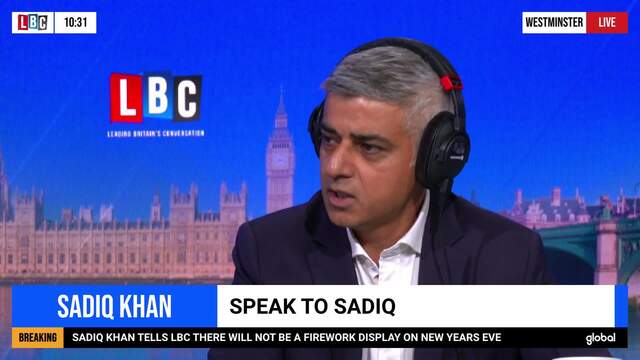 Sadiq Khan: London's NYE firework display has been cancelled
The Mayor of London Sadiq Khan has told LBC that this year's New Year's Eve fireworks display in London has been cancelled due to the coronavirus pandemic.
The event normally draws hundreds of thousands of spectators to the banks of the Thames but it is impossible for it to go ahead this year, the Mayor said.
Mr Khan said on Speak to Sadiq with James O'Brien: "There will not be fireworks on New Year's Eve this year like in previous years.
Read more: Sadiq Khan says 'respect rule of six' or face London curfew
Read more: 'I've never been cowed by bullies' - Sadiq Khan's reaction to abuse video

London's New Year's Eve fireworks cancelled
"We simply can't afford to have the numbers of people who congregate on New Year's Eve, congregating.
"What we are working on is to do something that people can enjoy in the comfort and safety of their living rooms on TV.
"As soon as we manage to bottom that out I'll be letting Londoners and people across the country know.
Read more: Police hunt man who kicked NHS worker unconscious on London bus in row over face mask use
"We can't afford to lose that slot because New Year's Eve is a really great opportunity for the rest of the world to see how wonderful our city is.
"Particularly during a recession we need to continue investment in our city and people coming to London."
Watch Friday's Speak to Sadiq in full here.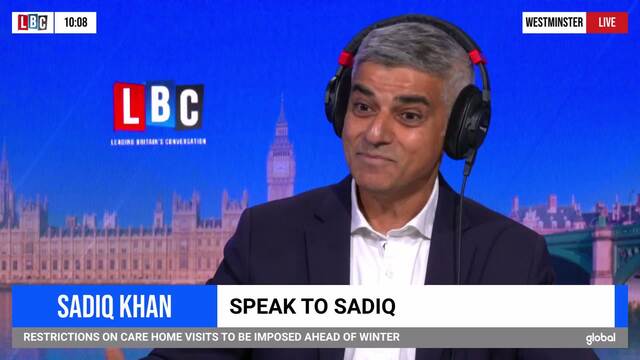 Grouse shooting exemption shows how out of touch the Govt is
What will happen in London on New Year's Eve instead of the fireworks?
It's unclear as yet what New Year's Eve 2020 will look like in the capital, but it certainly won't be the same as previous years.
Mr Khan has assured that an alternative event to the usual fireworks display will be planned and will be broadcast for everyone to watch from the safety of their homes.
Will we still be able to celebrate New Year's Eve in London?
Yes - although decisions relating to how people celebrate will likely be influenced by any restrictions that may - or may not - be in place at the time.
This means celebrations would potentially need to be smaller and with more home-based affairs - but are still celebrations nonetheless.
Will there be a full London lockdown?
Again, it is hard to say as it is too early to predict whether another lockdown will be necessary.
Mr Khan told LBC that cases and rates of infection had been rising in London recently, but had not yet reached a level that required extra restrictions.
He assured that he was "keen to do [his] bit" to avoid having to impose new measures as he further encouraged people to follow the guidelines and stick to the rule of six.
"Wear a face mask, use hand sanitiser. If you can, work from home; avoid rush hour," he said, adding that he "fully supports" the government's latest measure on social gatherings.
He added: "The rule of six is designed for us to avoid the virus spreading too fast, leading to the NHS being overwhelmed, leading to a further national lockdown."