Matthew Wright challenges caller who believes asylum seekers are 'not coming from dangerous areas'
18 November 2023, 11:37 | Updated: 18 November 2023, 11:40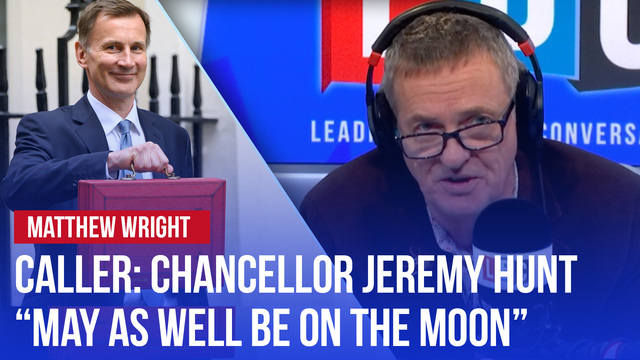 Caller: Chancellor should present Autumn Statement to poor families
In light of Suella Braverman's criticism of Rishi Sunak's plans to 'stop the boats', this caller phoned in to share his views on immigration.
Caller Andrew told Matthew Wright: "With the greatest respect, they are not coming from areas which are dangerous."
"Well they do, they do", the presenter replied.
In response, the caller said: "I'm sorry - France is not a dangerous country at this stage."
READ MORE: Sacked Suella Braverman reveals five-point plan to get migrant flights to Rwanda
"I didn't know we were taking any French citizens as illegal migrants, that's news to me Andrew", Matthew swiftly replied, and asked: "How many illegal French people have we taken?"
Andrew then clarified that he was referring to asylum seekers, and when asked by Matthew where they come from, he said: "They come from Syria, they come from Africa."
Matthew Wright asks why we welcome Ukrainians more than people from other countries
The presenter then asked if he was aware that Britain had bombed Syria, reiterating a point he had made earlier in his show concerning the UK's responsibility to people coming from countries that it has bombed.
After some hesitation, Andrew said: "We are not responsible for what is going on there now."
READ MORE: Emergency laws needed to 'stop the boats', says sacked Suella Braverman after court rules against Rwanda plan
Suella Braverman was sacked as Home Secretary this week prior to the Rwanda plan being ruled unlawful by the Supreme Court.
In her resignation letter, she criticised Rishi Sunak's approach to handling migration, and has since called for the government to opt-out from the "entirety" of European and human rights laws for her five-point plan to tackle 'illegal migration' to go ahead.
Suella Braverman's five-point plan:
The Bill must address the Supreme Court's concerns regarding Rwanda
The Bill must enable flights before the next general election
Swift removal must mean swift removal
Those arriving here illegally must be detained
This must be treated as an emergency
Today's Supreme Court judgment is no surprise. It was predicted by a number of people close to the process. Given the current state of the law, there is no reason to criticise the judges. Instead, the government must introduce emergency legislation. 1/3

— Suella Braverman MP (@SuellaBraverman) November 15, 2023