Junior doctors branded 'so selfish' by emotional caller living in 'unbearable pain' as thousands of operations cancelled
11 April 2023, 10:31 | Updated: 11 April 2023, 10:37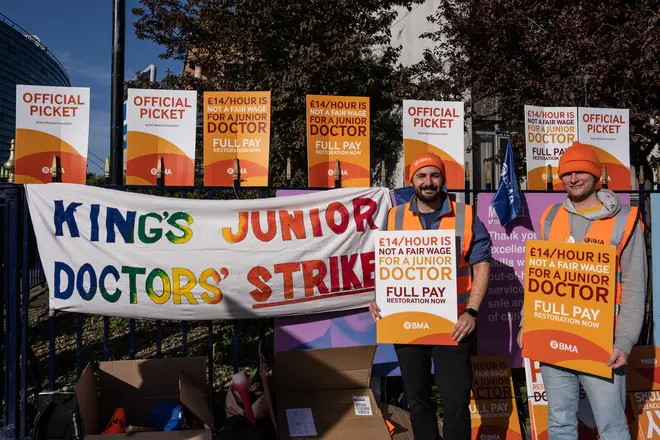 Elderly caller Pat told Ian Payne she is imprisoned to her home by "unbearable pain" tearfully sharing how her knee replacement operation had been cancelled for a "fifth time" due to junior doctors strikes.
The 91-year-old detailed how first patients "bed-blocking" delayed her operation, then a mistake in the appointment office, followed by the nurse's strike, and now the most recent junior doctors' strikes.
READ MORE: Government slams junior doctors' 'unreasonable' pay demands as NHS braces for most disruptive strike in its history
Junior doctors began their four-day walkout in support of their demand for a 35% pay rise today. The British Medical Association Union says the figure would account for 15 years of below-inflation wage rises, but the government disagrees.
READ MORE: Two teenage girls 'raped on canal towpath' over Easter weekend as a 17-year-old boy is arrested
Pat contests the strikes urging the junior doctors to "get back to work" saying: "There's people suffering, you signed up to be a doctor to help people that are suffering, to look after people, this is no way to look after anybody".
Ian questioned how Pat "manages her pain" to which she replied painkillers now have minimal effect, stating "I just live with it".
READ MORE: Flood warnings issued as UK to be battered by wind and heavy rain with some parts facing snow
NHS England said the strike will place mounting pressure on hospitals and is urging people to use health services wisely.
Over a quarter of a million appointments and operations could potentially be cancelled, and some hospitals say up to half of their planned treatment is affected
Previously walking out between the 13-15 March, junior doctor strikes have already caused 175,000 outpatient appointments and operations being rescheduled.
Pat began sobbing telling Ian her family "don't live nearby" and she feels awful "burdening" people when asking for lifts to appointments that are then cancelled.
The current four-day strikes are estimated to cancel 350,000 appointments including opeartions.
The Chief Executive of the NHS Confederation, Matthew Taylor, said the likely impact of the strike was "heartbreaking" and called on both sides to end their "battle of rhetoric".