Flood warnings issued as UK to be battered by wind and heavy rain with some parts facing snow
11 April 2023, 07:05 | Updated: 11 April 2023, 11:21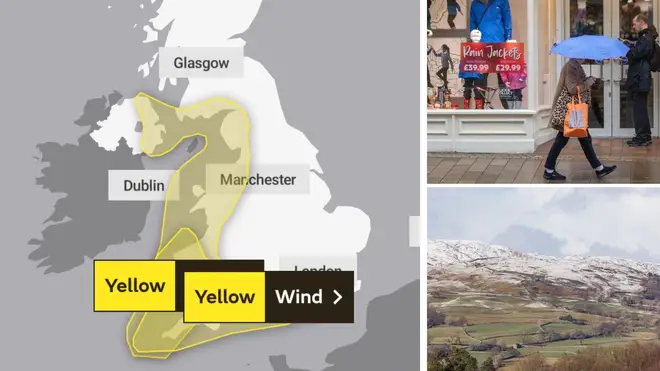 Britain will be battered by 60mph wind and heavy rain as the Met Office issued yellow weather warnings.
The west coast and parts of Northern Ireland have been issued an alert for wind, which will last 12 hours from 3pm on Tuesday.
Strong winds are expected across England and Wales on Wednesday, which a weather warning has been put in place for.
Eight flood alerts have also been issued for across southern England on Tuesday – and the possibility of snow in the north of the UK has been raised.
Read more: Easter Monday washed out with wind and rain as warm weekend comes to abrupt end in Britain
"After a brief lull in winds through the early hours of Wednesday, west or north-west winds are expected to increase once more during Wednesday morning, then remain strong for much of the day," the Met Office said.
"Gusts of 40-50mph are expected widely within the warning area, but some coastal areas, especially in parts of south-west Wales and Cornwall, could see gusts above 60mph at times.
"Outbreaks of heavy rain or showers will accompany the strong winds."
Temperatures will range from about 11C in the north of Scotland to 16C in southern England.
Temperatures will be colder than the recent warmer spell but they will recover towards the weekend.
The UK was hotter than Rome over part of the long bank holiday.
Steven Keates, the Met Office's deputy chief meteorologist, warned of disruptive wind and said there is "potential for heavy rainfall and even some snow, though the latter probably confined to high ground in the north".
He added: "Although subject to a large degree of uncertainty, gusts of wind could be in excess of 60mph in some exposed upland or coastal regions, with around 35mm (1.4in) to 50mm (2in) of rain possible for some areas."