Perhaps the government will apologise once the Infected Blood Inquiry report is published, dare we hold our breath?
17 April 2023, 13:34 | Updated: 17 April 2023, 13:53
On World Haemophilia Day Des Collins the adviser to 1,500 victims and families impacted by the infected blood scandal, gives his LBC Views.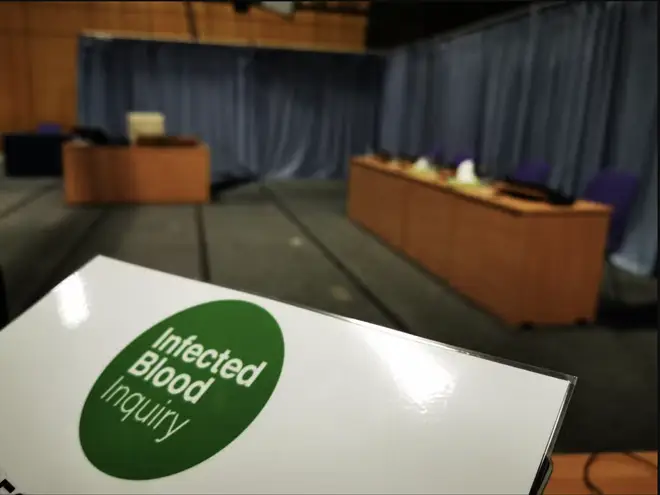 Untrammeled use of contaminated blood and blood products in the 1970s and 1980s lead to widespread infection with HIV and/ or Hepatitis C and resulted in the deaths of thousands of people.
The story of the scandal of those infected by the NHS is harrowing to hear.
How this was allowed to happen is the subject of the Infected Blood Inquiry chaired by Sir Brian Langstaff, which heard its closing evidence at the start of this year. The final report is eagerly awaited by all involved this Autumn.
The Inquiry has exposed that throughout the 70s and 80s, medics, civil servants, governments and others became aware of concerns surrounding infected blood products but failed to act.
Worse still, a policy of denial and cover-up existed for decades. Ministers deferred excessively to civil servants who stubbornly refused to admit their mistakes, fearing significant legal and financial consequences.
Heart-wrenching testimony heard over the last 5 years led Sir Brian last Summer to recommend that interim compensation payments be made to those still alive and to the bereaved spouses of those who had died.
This marked a small step towards justice for some but still excluded all those who had lost parents, children and other family members – each of whom continues to suffer as a result.
Unusually, Sir Brian issued a second Interim Report earlier this month, in which he recommended, not only a full compensation package but also that the Government make interim payments as quickly as possible to this wider cohort of affected individuals - bereaved parents and children of the deceased - prior to his final report being published.
Extended eligibility is welcomed, however, the limitations that Sir Brian appears to impose on victims' access to independent legal advice is concerning. The victims have suffered loss over many years. It is unrealistic to expect them to be able to quantify their claims without specialist advice.
Lawyer support has proved invaluable to the victims of the Post Office scandal, so it should similarly be available for infected blood victims.
The presently proposed alternatives are far from suitable given both the complexity of the claims and the significant emotional toll the process will inevitably have on the victims.
Compensation, however, is just one facet of the justice sought.
A fulsome apology from the Government is yearned for by those who have had their lives ruined.
Perhaps it will finally be forthcoming after Sir Brian's Final Report is published. Dare we hold our breath?