Here's How You Can Tell If Your Data Was Misused By Cambridge Analytica
10 April 2018, 14:29 | Updated: 28 October 2019, 15:53
Over a million people in the UK had data from their Facebook profiles misused by Cambridge Analytica. Here's how you can find out if you're one of them.
In the wake of revelations that Facebook has allowed third party apps to access huge amounts of personal data, the social media company has introduced new plans to restrict data access.
The British firm Cambridge Analytica has been accused of harvesting data from a personality quiz from 2013.
It is thought the quiz, called This Is Your Digital Life, was only installed by about 300,000 people, but was able to take data from their Facebook friends as well.
This means 87 million people are affected, with just over a million based in the United Kingdom.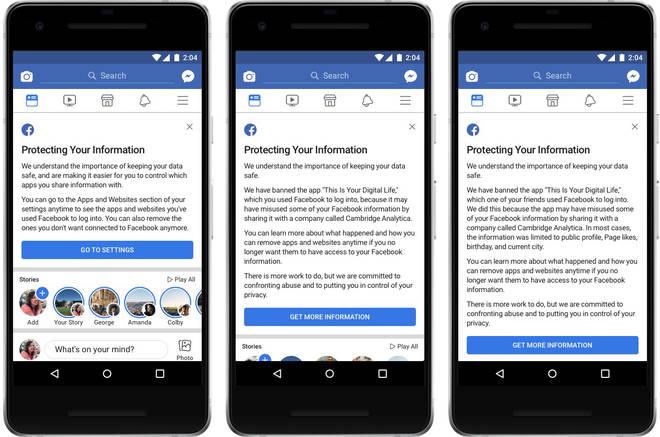 How will Facebook tell me if my data was taken?
Facebook has about 2.2 billion users worldwide, and they will each receive one of three notices titled "Protecting Your Information" at the top of their news feed.
The messages all start by saying: "We understand the importance of keeping your data safe."
But the message users receive will depend on whether they have been affected by the quiz or not.
Most people will receive a message that says they can visit the Apps and Websites section of their settings to control who they share their information with.
For those who are affected, however, the message will explain whether they or one of their friends had logged into the app and that their information had been misused.
I haven't had my notification yet, how can I find out if my data was used?
You can find out if your data was misused before Facebook notifies you, by clicking here.
What is Facebook doing to prevent this from happening again?
Facebook is introducing new restrictions on the way third parties use data from Facebook
One of the more visible changes being made will be losing the ability to search for people using their telephone number of email address.
Mike Schroepfer, Facebook's Chief Technology Officer, wrote on his blog: "Malicious actors have abused these features to scrape public profile information by submitting phone numbers or email addresses they already have through search and account recovery."
Other measures include the removal of developer access to your profile if it is not used for three months.
The amount of data an app can take will also be reduced to name, profile photo and email address. Additional information would need to be asked for specifically afterwards.
In a status on his own profile, Mark Zuckerberg said: "We will investigate all apps that had access to large amounts of information before we changed our platform to dramatically reduce data access in 2014, and we will conduct a full audit of any app with suspicious activity.
"We will ban any developer from our platform that does not agree to a thorough audit.
"And if we find developers that misused personally identifiable information, we will ban them and tell everyone affected by those apps."