Police clash with protesters near White House as US braces for unrest
4 November 2020, 07:40 | Updated: 4 November 2020, 09:45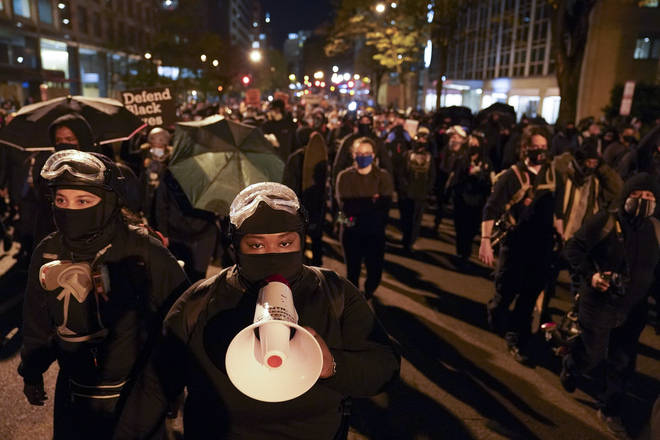 Protesters have clashed with police near the White House as the US braces for unrest amid uncertainty over who will win the presidential election.
With the battle between Donald Trump and Joe Biden too close to call, and the possibility of days of counting and legal battles before a result can be called, demonstrators squared off with officers at Washington DC's renamed Black Lives Matter plaza.
It came after police had detained two men outside the Labourers' International Union building. It was not clear why they were being held.
READ MORE: follow all the latest US election developments LIVE
Officers on bikes formed a barrier between the men and the crowd as protesters tried to force themselves through.
Chants of "f*** the police" and "no justice, no peace" broke out while demonstrators called on police to release the men.
Some protesters kicked police bicycles while others called for the crowd to stop officers taking away the two detainees. Police escorted the men through the barrier of bikes.
The incident appeared to be the first instance of significant tension on a night, with fears that similar scenes could follow across the US.
Hundreds of businesses in cities across the country have boarded up doors and windows, fearing the vote could lead to the sort of violence that broke out earlier this year after the death of George Floyd.
In Washington, a new fence has also been put up around the White House.
"Some people would like to cause mayhem and trouble," Washington mayor Muriel Bowser said earlier in the day. She added she has never seen so many businesses being boarded up.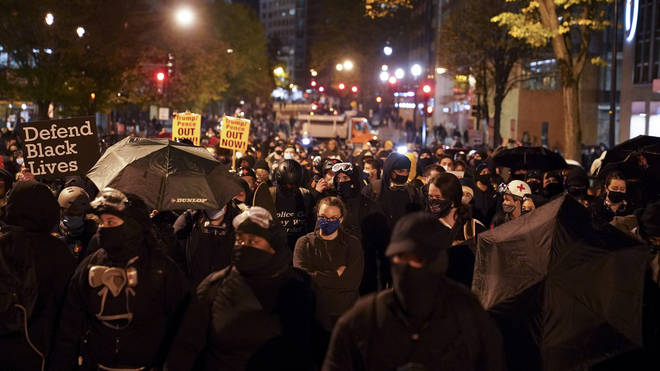 A largely peaceful Black Lives Matter march made its way through the city, with people shouting "if we don't get no justice, they don't get no peace" and unfurling large banners including one reading "Trump lies all the time".
At one point, the marchers stabbed the tyres of a parked police van to flatten them.
A small minority of demonstrators went face-to-face with officers but the majority moved on without trouble.
Scattered protests also took place from Seattle to New York City, but there were no immediate signs of serious violence or widespread unrest.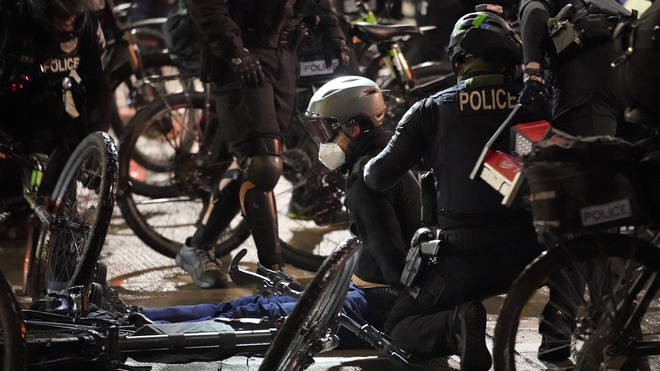 In Seattle and Portland, Oregon, hundreds of people marched in anti-Trump demonstrations, with several arrested.
"This is what democracy looks like," protesters chanted in Portland, where organisers said the demonstration would be peaceful and that regardless of the presidential election result, they would continue protesting in support of racial justice.
Police said some protesters were openly carrying guns.
In Seattle, police said they arrested several people, including someone who put nails in a road and another who drove over a barricade and into a police bike lane. No one was injured.