Chilling Video Shows Moment Of Deadly Bridge Collapse In Florida
16 March 2018, 11:33 | Updated: 16 March 2018, 11:38
Chilling CCTV shows the moment a 862-tonne footbridge bridge collapsed in Florida killing at least six people.
Nine others were hurt when the newly erected structure fell over an eight-lane motorway on Thursday afternoon.
Rescuers worked overnight using sniffer dogs and search cameras in a bid to locate any others trapped in the rubble.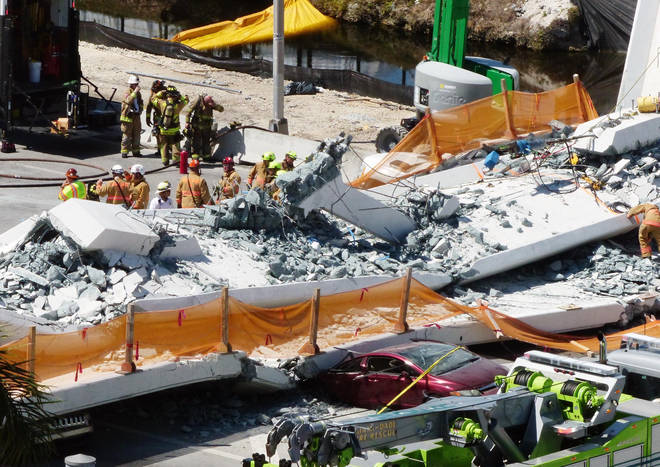 "We don't anticipate that we will find anybody alive in there," a spokesperson of a local police department told the Miami Herald.
The shocking collapse occurred near Florida International University at about 13:30 local time (17:30 GMT).
The 174ft bridge had only been put up on Saturday.
It took just six hours to construct using an "accelerated bridge construction" to avoid traffic disruption.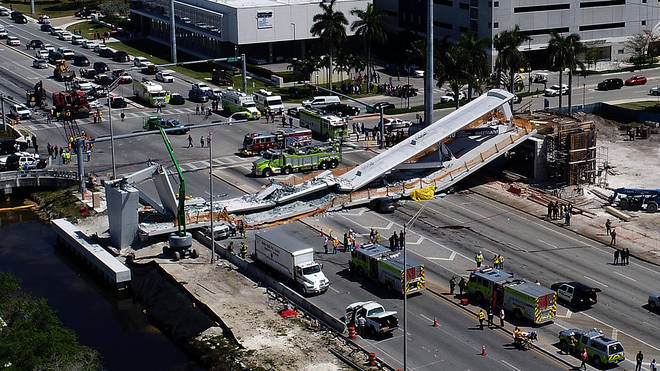 At least eight vehicles were trapped in the wreckage of the bridge, as fire engines and ambulances rushed to the scene.
One desperate woman whose daughter was in one of the crushed vehicles begged to search the rubble herself, the Miami Herald reported.
Her request was denied.Speaking to reporters, Juan Perez, the director of the Miami Dade police department, said: "Our thoughts and prayers go to the victims of this tragedy.
"We are assisting in the efforts and the main focus is to rescue people."