Family Row Turns Into A Mass Street Brawl Involving Bats And Golf Clubs
9 January 2018, 13:16 | Updated: 9 January 2018, 13:33
Chaotic footage has emerged showing the moment a family argument descended into a mass brawl involving golf clubs, hammers and baseball bats.
Over 30 people were at the scene of the fight which broke out in a residential area in West Belfast on Sunday.
Videos of the feud, involving both men and women, have been shared widely on social media.
The clips appear to show the row breaking out before escalating into the huge brawl.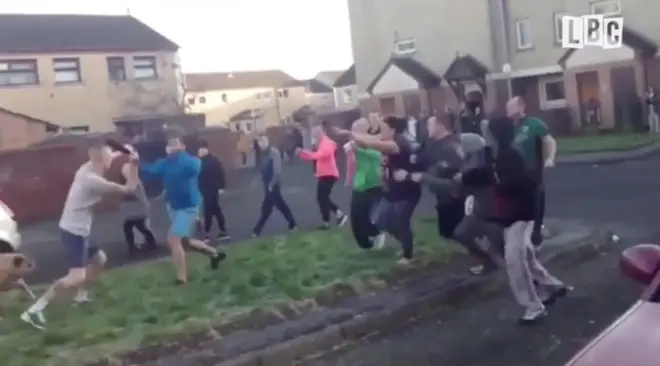 Speaking to Belfast Live, Local SDLP councillor Tim Attwood described the footage as "sickening".
"It's no way to resolve any issues," he said.
"I understand it was a family dispute and I don't think there were any injuries."
Police are understood to have been on the scene within minutes after calls were made by shocked neighbours.
However, Cllr Atwood said when officers arrived "both sides were mute".
As a result, no arrests were made.
You can watch the incident unfold in the video at the top of this page.