Farage's Instant Reaction As PM Refuses To Say Whether She'd Back Brexit
28 August 2018, 20:38 | Updated: 28 August 2018, 20:40
Theresa May has once again refused to say whether she would now back Brexit - and Nigel Farage thinks he knows why she won't answer the question.
The Prime Minister ruled out answering any "hypothetical questions" when it was put to her during a trip to South Africa.
She told Sky News: "We're not in the business of having a second referendum on Brexit".
It's the second time she's refused to answer the question, with the first during an interview with LBC's Iain Dale.
"The important thing now is we should all be focused on delivering Brexit and delivering the best deal," she said at the time.
Speaking from his office at the EU Parliament in Brussels, Nigel branded her most recent response "painful".
But he thinks he knows why she won't give a straight answer to the question.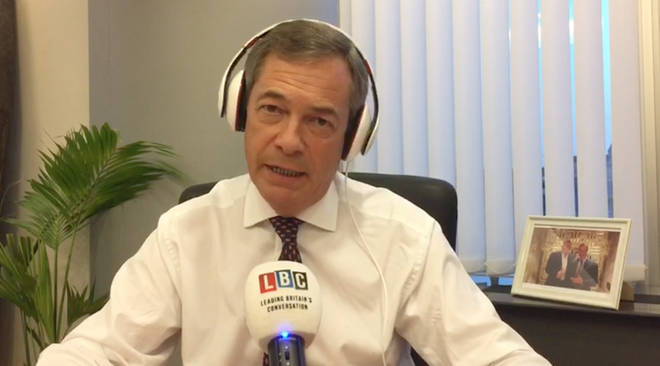 "The reason she can't answer the question is to someways in her credit - she doesn't like to lie," he said.
"She finds it difficult to lie, a vicar's daughter tries not to openly lie - so she just avoids it.
"But it tells you we have a Remainer Prime Minister in charge on an overwhelmingly Remainer Cabinet and they all sit in a Remainer House of Commons.
"They don't respect the result we got back on June 23rd 2016."