Nigel Farage Believes Theresa May Is Softening Towards A Norway-Style Brexit
18 September 2017, 20:28 | Updated: 18 September 2017, 20:43
Nigel Farage believes Theresa May is "softening" towards the idea of a Norway-style Brexit deal.
Giving his latest assessment on Britain's departure from the EU, the former Ukip leader said the debate was now beginning to split on the idea.
It comes as Boris Johnson launched an unexpected intervention over the weekend with his 4,000-word Brexit vision article which was published in the Telegraph.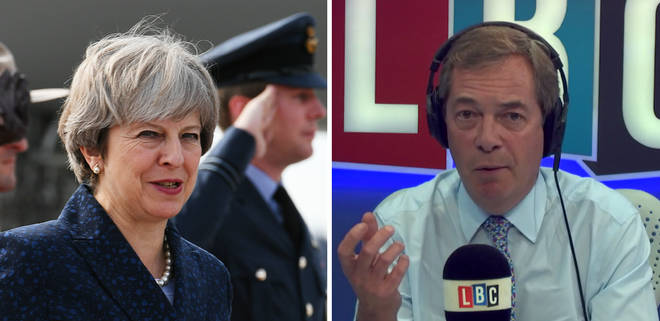 The Foreign Secretary wants a short transition deal without large payments into the EU, in contrast to Chancellor Philip Hammond who has argued that a deal could last up to three years - and could include substantial payments.
Nigel warned against the idea of a Norway-style Brexit arrangement, arguing it would make it "very difficult" for Britain to be "free to make our own relationships with the rest of the world".
He said remaining in the European Economic Area (EEA) would leave the UK still "having to obey EU rules" and "paying a lot of money for that privilege".
The LBC presenter noted that the Prime Minister was "stuck in the middle" of her Cabinet, but added "clearly over the summer I think been softening towards a more EEA Norway-type position".
Watch his take above and see if you agree.