US Governor Accuses EU Of Demanding A Brexit "Ransom" From Britain
20 November 2017, 20:14 | Updated: 20 November 2017, 20:18
The governor of Mississippi has slammed the European Union for demanding "ransom" money from Britain.
Phil Bryant, a Brexit supporter, joined Nigel Farage in the LBC studio during a visit to London on Monday.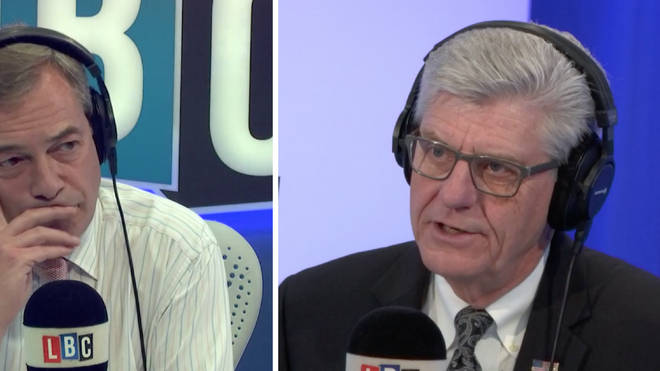 He spoke as Theresa May met with senior ministers in a bid to move Brexit negotiations forwards.
There are reports the Prime Minister could double its £20bn offer in the coming days, although Downing Street has dismissed this as speculation.
Last week, the EU Council President, Donald Tusk, gave the UK two weeks to offer up more money if the bloc was to agree to begin trade talks in December.
But, the revelations left Governor Bryant dumbfounded as the Republican told Nigel: "It's hard for Americans to grasp this.
"Apparently Brussels still is trying to tell you, even after the vote by the people of Great Britain, that they're going to decide what Great Britain will do and now there's this talk of how much ransom you're going to pay and it's kind of what it is."
He continued: "This is Great Britain, you don't need their permission to do anything, that's the way Americans look at it.
"I know that people that I talk to are so eager about seeing Brexit come into fruition because we believe that the United States all of North America, Canada, Mexico all are looking forward to building stronger trade, greater alliances with Great Britain."