Online Safety Act becomes law in the UK
26 October 2023, 14:14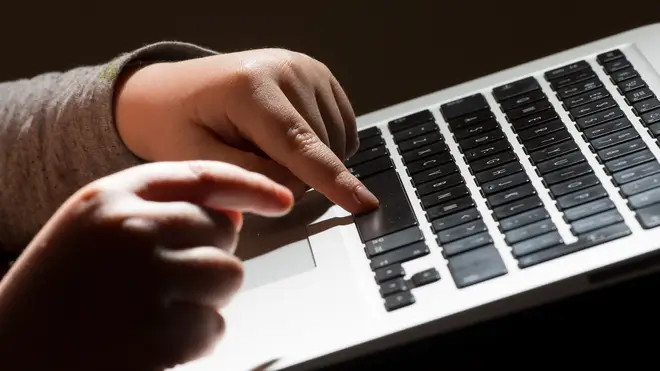 The new internet safety rules will be overseen by Ofcom.
Internet safety legislation that will require social media companies to keep children safe online has passed into law in the UK.
The Online Safety Act received royal assent in Parliament on Thursday, bringing the new rules into effect.
Technology Secretary Michelle Donelan said it meant the UK would become "the safest place to be online in the world".
Social media platforms will be required to prevent and rapidly remove illegal content – such as terrorism and revenge pornography – and stop children from seeing harmful material such as bullying or self-harm content by enforcing age limits and using age-checking measures.
The rules also require sites to give adults more control over what they see online, offer clear and accessible ways for users to report problems and be transparent about the dangers posed to children on their sites by publishing risk assessments.
Those that fail to comply will face fines of up to £18 million or 10% of annual global revenue, meaning potentially billions of pounds for the biggest firms.
In the most extreme cases, tech bosses could even face prison.
"Today will go down as an historic moment that ensures the online safety of British society not only now, but for decades to come," Ms Donelan said.
"I am immensely proud of the work that has gone into the Online Safety Act from its very inception to it becoming law today.
"The Bill protects free speech, empowers adults and will ensure that platforms remove illegal content. At the heart of this Bill, however, is the protection of children.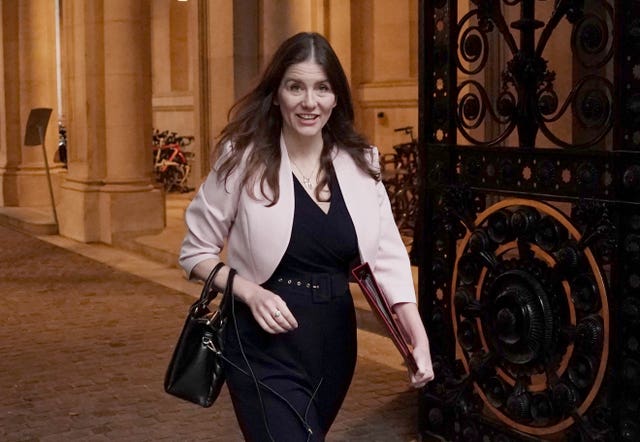 "I would like to thank the campaigners, parliamentarians, survivors of abuse and charities that have worked tirelessly, not only to get this Act over the finishing line, but to ensure that it will make the UK the safest place to be online in the world."
Home Secretary Suella Braverman said: "This landmark law sends a clear message to criminals – whether it's on our streets, behind closed doors or in far-flung corners of the internet, there will be no hiding place for their vile crimes.
"The Online Safety Act's strongest protections are for children. Social media companies will be held to account for the appalling scale of child sexual abuse occurring on their platforms and our children will be safer.
"We are determined to combat the evil of child sexual exploitation wherever it is found, and this Act is a big step forward."
Communications regulator Ofcom is expected to set out plans for its new powers in the coming weeks.
The Government confirmed that the majority of the Act's provisions would commence in two months' time, but said Ofcom would immediately begin work on tackling illegal content, with a consultation process launching on November 9.
Ofcom chief executive Dame Melanie Dawes said: "These new laws give Ofcom the power to start making a difference in creating a safer life online for children and adults in the UK.
"We've already trained and hired expert teams with experience across the online sector, and today we're setting out a clear timeline for holding tech firms to account.
"Ofcom is not a censor, and our new powers are not about taking content down. Our job is to tackle the root causes of harm. We will set new standards online, making sure sites and apps are safer by design.
"Importantly, we'll also take full account of people's rights to privacy and freedom of expression. We know a safer life online cannot be achieved overnight, but Ofcom is ready to meet the scale and urgency of the challenge."
Barnardo's chief executive Lynn Perry said: "The Online Safety Act is an important first step towards making the UK the safest place for a child to be online.
"Through our frontline work across the UK, we support children whose mental health and understanding of healthy relationships are damaged by what they see online. We welcome the new duty placed on pornography sites to verify that users are over 18, which will help to stop children from viewing this type of harmful content.
"There is much more work to be done here and we will continue to work with the Government on implementing this legislation, the forthcoming review into pornography and ensuring we keep ahead of emerging online threats, such as AI and virtual reality, to protect our children."
NSPCC chief executive Sir Peter Wanless said the passing of the Act was a "watershed moment" meaning children across the country will be "fundamentally safer".
"The NSPCC will continue to ensure there is a rigorous focus on children by everyone involved in regulation. Companies should be acting now, because the ultimate penalties for failure will be eye-watering fines and, crucially, criminal sanctions," he said.