Close AI 'confidence gap' to make it a powerful force for good, say experts
17 October 2023, 06:54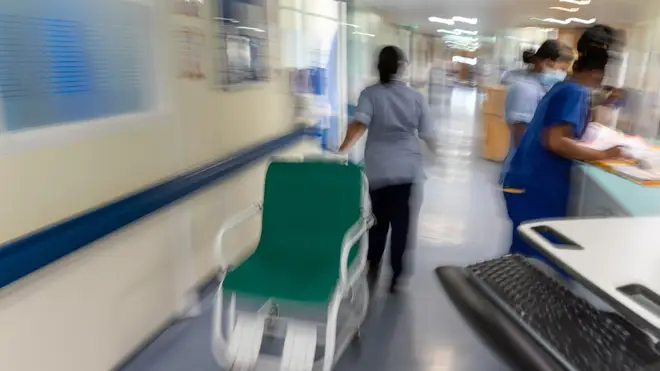 A British Standards Institution survey found almost half of people in the UK support using artificial intelligence to bring down NHS waiting lists.
Almost half of people in the UK support the use of artificial intelligence (AI) to bring down record NHS waiting lists, although more work must be done to build public trust in the technology if the UK is to keep up with other economies.
Experts said building trust in the technology is a "critical factor" to ensuring it is a "powerful force for good" in the future.
The British Standards Institution (BSI) surveyed 10,000 adults across nine countries for its Trust in AI poll to gauge global attitudes about the technology.
The UK cohort included responses from 1,001 people.
Some 49% supported the use of AI to ease pressure on the NHS and bring down waiting times, while 48% said the technology could help solve staffing pressures in the healthcare sector.
The latest data from NHS England revealed waiting lists climbed to 7.75 million in August, up from 7.68 million in July.
The figure is the highest since records began in 2007.
Earlier this year Prime Minister Rishi Sunak made tackling NHS waiting lists a main priority but the Government has previously blamed ongoing industrial action in the NHS for making the task more challenging.
The BSI poll also revealed that more than half of people (54%) are excited about how AI can improve the accuracy of medical diagnoses, with 37% expecting to see regular use of AI by doctors or hospitals by 2030.
The NHS in England is currently using AI to assist doctors in reading scans and X-rays in some cases of suspected cancer to free up time.
Elsewhere, 43% of those in the UK said they welcome the use of AI to help tackle food waste, while 47% said they hope AI can help create a more energy-efficient built environment.
The global BSI survey was commissioned to launch the Shaping Society 5.0 essay collection, which will examine how AI can accelerate human progress.
However, the BSI warned the UK could fall behind other economies if issues around confidence are not addressed.
Craig Civil, director of data science and AI at BSI, said: "The magnitude of ways AI can shape the UK's future means we are seeing some degree of hesitation of the unknown.
"This can be addressed by developing greater understanding and recognition that human involvement will always be needed if we are to make best use of this technology, and by ensuring we have frameworks that are in place to govern its use and build trust."
Some 20% of those surveyed in the UK have more confidence in AI than people, while 65% said patients must be made aware when AI tools are being used by clinicians.
In terms of regulation, 61% said they want international guidelines to be implemented for the safe use of AI.
The BSI survey of Chinese adults found 70% of people are already using AI every day at work, while the UK average is 29%.
Some 86% of people in China also expect their industries to be using AI by 2030 compared with 51% in the UK and 62% globally.
Harold Pradal, chief commercial officer at the BSI said AI is "transformational" for "trust needs to be the critical factor" if it is going to be a "powerful force for good".
He added: "There is a clear opportunity to harness AI to drive societal impact, change lives and accelerate progress towards a better future and a sustainable world.
"Closing the AI confidence gap is the first necessary step. It has to be delivered through education, to help realise AI's benefits and shape Society 5.0 in a positive way."
A Government spokesperson said: "It's clear AI is a powerful tool for good, with limitless opportunity to grow the global economy, deliver better public services, and tackle some of the world's biggest challenges such as climate change.
"Already, the NHS is trialling AI to help clinicians identify breast cancer quicker.
"The UK is also the world's third largest AI economy, with the sector contributing £3.7 billion to the economy last year alone and employing 50,000 people.
"That's why the UK is hosting the first ever major global AI Safety Summit next month, where we will bring together leading AI nations, technology companies, researchers, and civil society groups to expedite global action on the safe and responsible development of frontier AI around the world to ensure we can all reap its benefits safely."