Bionic hand breakthrough could be 'life-changing' for amputees
11 October 2023, 19:04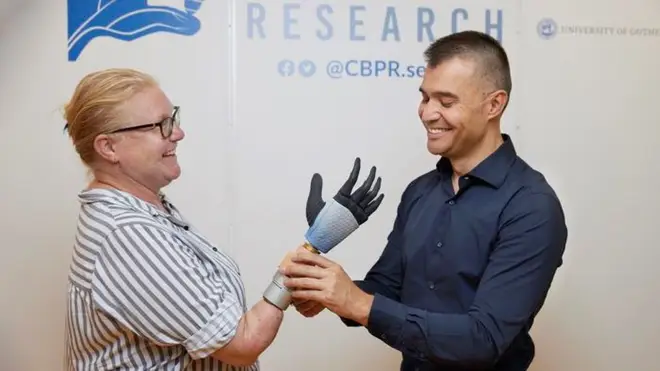 Researchers connected the prosthetic to the patient's nervous system and skeleton
New technology that allows prosthetic limbs to connect to the nervous system via electrodes could be "life-changing" for people who are facing amputation.
Researchers behind the human-machine interface technology hope their breakthrough will improve the quality of life of those with limb loss by making prostheses more comfortable and reliable.
They combined osseointegration – a form of surgery that fits a permanent implant to the skeleton to anchor an artificial limb – with reconstructive surgery to connect the bionic hand directly to the patient's nervous system and skeleton.
It was implanted in Karin, a Swedish woman who lost her right arm in a farming accident almost two decades ago.
She endured phantom limb pain as a result, and said: "It felt like I constantly had my hand in a meat grinder, which created a high level of stress and I had to take high doses of various painkillers."
In addition to pain, she found conventional prostheses uncomfortable and unreliable.
Researchers used titanium implants in Karin's radius and ulna bones, then created electromuscular constructs surgically by transferring the severed nerves to free muscle grafts.
The native muscles, free muscle grafts, and ulnar nerve were also implanted with electrodes.
A paper on the procedure, published in the journal Science Robotics, said Karin "continues using the prosthesis in daily life".
It added: "The functionality of conventional artificial limbs is hindered by discomfort and limited and unreliable control.
"Neuro-musculoskeletal interfaces can overcome these hurdles and provide the means for the everyday use of a prosthesis with reliable neural control fixated into the skeleton."
Karin added: "For me, this research has meant a lot, as it has given me a better life."
Professor Max Ortiz Catalan, head of neural prosthetics research at the Bionics Institute in Australia and founder of the Centre for Bionics and Pain Research (CBPR) in Sweden, added: "Karin was the first person with below-elbow amputation who received this new concept of a highly integrated bionic hand that can be used independently and reliably in daily life.
"The fact that she has been able to use her prosthesis comfortably and effectively in daily activities for years is a promising testament to the potential life-changing capabilities of this novel technology for individuals facing limb loss."
The surgery was led by Professor Rickard Branemark, a research affiliate at MIT, associate professor at Gothenburg University, and chief executive of Integrum.
He said: "The biological integration of titanium implants into bone tissue creates opportunities to further advance amputee care.
"By combining osseointegration with reconstructive surgery, implanted electrodes, and AI, we can restore human function in an unprecedented way.
"The below elbow amputation level has particular challenges, and the level of functionality achieved marks an important milestone for the field of advanced extremity reconstructions as a whole."
The robotic hand – known as Mia Hand – was developed by Prensilia.
Its managing director Francesco Clemente said: "The acceptance of the prosthesis is critical for its successful use. Besides technical performance, Prensilia struggled to develop a hand that could be fully customiseable aesthetically.
"Mia Hand was born to be shown and not hidden. We wanted the users to be proud of what they are, rather than ashamed of what was lost."