Duke and Duchess of Sussex call for overhaul of social media
10 October 2023, 23:34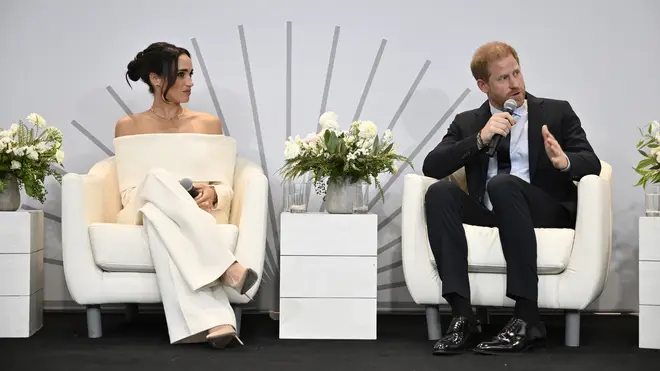 Harry and Meghan made the remarks at a mental health awareness festival in New York on Tuesday.
The Duke and Duchess of Sussex have urged social media companies to reduce the amount of harmful content children can see online to protect their mental health.
Harry and Meghan made the remarks at a mental health awareness festival run by non-profit Project Healthy Minds in New York on Tuesday.
They are visiting the city for the first time since being caught up in what they called a catastrophic car chase there in May.
The royal couple, who have spoken about their own mental health challenges in the past, took part in a panel discussion alongside US surgeon general Vivek Murthy moderated by NBC host Carson Daly, who has previously spoken of his struggles with anxiety.
The event, on World Mental Health Day, has been co-ordinated by the duke and duchess's Archewell Foundation.
The couple called on social media firms to adopt better content moderation policies and tweak apps which can prove addictive for youngsters.
They spoke after hearing from parents who have lost children to mental health issues linked to social media use.
The duke urged tech bosses to "stop sending children content you wouldn't want your own children to see".
The duchess said she and her husband are focusing on what they can do behind the scenes to make social media use "safer, better and more positive" and that the couple have spoken to tech executives about the issue.
She added: "People are getting hurt – and people, specifically children, are dying.
"A year ago we met some of the families, not all of them. At that time, it was impossible to not be in tears as I'm sure so many of you have been today hearing these stories.
"As parents, our kids are really young – they're two-and-a-half and four-and-a-half – but social media is not going away.
"I think by design, there is an entry point that is supposed to be positive, in creating community and something has devolved, and there is no way to hear that and not try to help these families have their stories be heard."
In the UK, the Princess of Wales gave a speech to young people gathered in Birmingham for a day of workshops and discussions to mark World Mental Health Day, with her husband in the audience.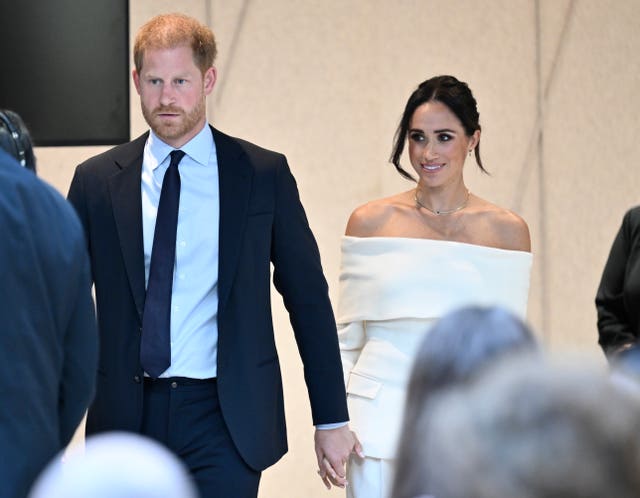 Harry and Meghan were all smiles when they visited the Marcy Lab School in Brooklyn, New York earlier on Tuesday.
The school's website claims it is the "alternative to college that you have been looking for" for people looking to start a career in tech.
Harry was applauded when he told a meditation class that "if one of you starts to go quiet, doesn't show up, you need to find out why" and added "remember to have fun".
Meghan, who was wearing a varsity letterman jacket given to her at the Robert Clack School in Essex in March 2020, told a class she wishes her children were with her but they are "doing well".
Students later rushed to take pictures with the royal couple before the school's co-founder Reuben Ogbonna joked "back to class, everyone".