Brazen Thieves Shove Rare £11k Guitar Inside Coat In Front Of Customers
15 March 2018, 13:04 | Updated: 28 October 2019, 15:21
A brazen couple have been caught on CCTV shoving a £11,000 guitar into a coat before casually walking out of a shop.
The crystal-clear footage shows the man and woman enter Peach Guitars in Colchester, Essex at about 4pm on February 20.
The man can be seen plucking one of the instruments off the wall before putting it inside the women's coat and walking out.
Staff at the store are offering a £1,000 reward to anyone who can get it returned.
Footage of the theft has been shared over 6,000 times after the shop uploaded it to Facebook on Tuesday.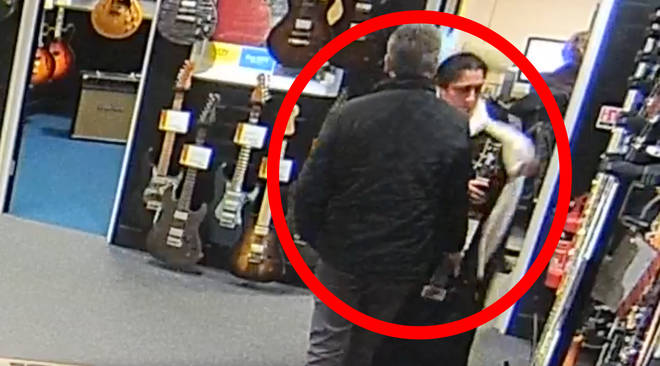 Peach Guitars wrote: "Sad announcement today, we've had an £11k PRS Private stock guitar stolen...
"Serial number of the guitar is 238755.
"£1000 reward for information that leads to it's safe return.
"Any re-sharing and extra awareness might help make it harder for them to sell it on.
"It was taken off the wall so the certification and hard case are still with us, so be on the look out."