Andrew 'determined to attend Philip's memorial service' after £12m sex case settlement
15 February 2022, 16:09 | Updated: 16 February 2022, 16:07
Prince Andrew is adamant that he will attend a memorial service for Prince Philip after settling a civil sex assault case brought by Virginia Giuffre, it has been reported.
A service of thanksgiving for Prince Philip's life is set to take place on March 29 at Westminster Abbey, which the duke is believed to consider as a family gathering to remember his father, according to the Times.
If he attends, it is likely to be his first public appearance since the settlement of the case, which is reported to be more than £12million and was agreed between lawyers in New York after a sensational development on Tuesday.
However, the paper hinted that there are concerns Andrew's presence will "overshadow the service".
It comes as the paper also suggested that Ms Giuffre has agreed to a 'period of silence' under the terms of her out-of-court settlement - set to be paid for in part by the Queen - with the Duke of York.
The move is understood to try and draw a line under the scandal before the Platinum Jubilee celebrations later this year, which he has been told to stay away from.
Read more: Russia 'locked and loaded' for invasion despite withdrawal claims, Defence Sec tells LBC
Read more: Kiev mayor Vitali Klitschko tells LBC 'we are ready to fight and defend our families'
And the deal comes just weeks after Andrew vowed to contest Virginia Roberts' rape claims at a public trial.
Miss Roberts had alleged she was forced to have sex with the duke three times when she was 17 under the orders of the late paedophile Jeffrey Epstein.
Andrew has vehemently denied all allegations against him.
Financial terms of the settlement were not disclosed by the Manhattan court, but the Telegraph reported it is more than £12 million.
The Duke is now facing calls to "come clean and say where the money came from", after commentators claimed he could still be helped with money from the Queen's private wealth despite Buckingham Palace announcing last month he would be defending the case "as a private citizen".
Andrew receives a Royal Navy pension and the Queen is also thought to fund her son from her £21.7-million-a-year Duchy of Lancaster income, but the figure she gives him is kept private.
Deborah Blum, a New York-based attorney who has represented both victims and those accused of sexual offences, told LBC's Nick Ferrari at Breakfast with Tom Swarbrick Andrew was "probably paying a tremendous amount of money" and added that Virginia Giuffre was not able to talk about the case until after the Queen's Platinum Jubilee celebrations had come to an end.
"As part of this settlement, I've read that she's not allowed to speak out publicly about her claim until after the celebrations for the Queen's Platinum Jubilee, so I do think that Prince Andrew's lawyers got things for him with no admission of real guilt," she said.
"I think that they are probably paying a tremendous amount of money."
She added that Ms Giuffre benefited too, saying: "She's walking away with money to support her cause... and I'm sure that she is going to use the money to do good."
Read more: Halyna Hutchins' family file lawsuit against Alec Baldwin for Rust shooting
Read more: 'Attack or let it go': Ukrainian Ambassador hits out at Russia's 'mixed signals'
David McClure, author of Royal Privilege: The Queen's True Worth, said a settlement could be "in the order of several million dollars".
He said: "That raises the question: 'does he have the money?'"
There had been reports Andrew had been trying to sell a chalet in the Swiss resort of Verbier which he bought for £13 million in 2014 with his ex-wife, Sarah, Duchess of York.
Mr McClure added: "The very fact he had to sell, it does show he had some money but he didn't have lots of money.
"So where does the money come from? I think more than likely the Queen."
"I just would argue in view of the enormous public interest in it, in view of the fact that Prince Andrew is a public figure, he was in line to the throne, I really think that they should disclose the amount of money and where it's come from."
Another royal expert said it is likely "we will never know what contribution came from the Queen to the Duke of York to help with all that (legal costs and the settlement)."
Joe Little, of Majesty magazine, said: "I think if we are clear that it is coming from a private source, albeit the Queen, then it's no burden to the taxpayer. I think perhaps that needs to be underlined.
"The figures are pretty transparent nowadays. The Queen has a private income which she uses to support various members of her family so if that's the case then so be it.
"Who else is going to support him other than the Queen?"
The court document released today said: "The parties will file a stipulated dismissal upon Ms Giuffre's receipt of the settlement (the sum of which is not being disclosed).
"Prince Andrew intends to make a substantial donation to Ms Giuffre's charity in support of victims' rights.
Read more: Prince Andrew's accuser has 'lost' infamous photo of him with his arm around her waist
Read more: Andrew's royal career 'finished' after being stripped of HRH and Royal titles by Queen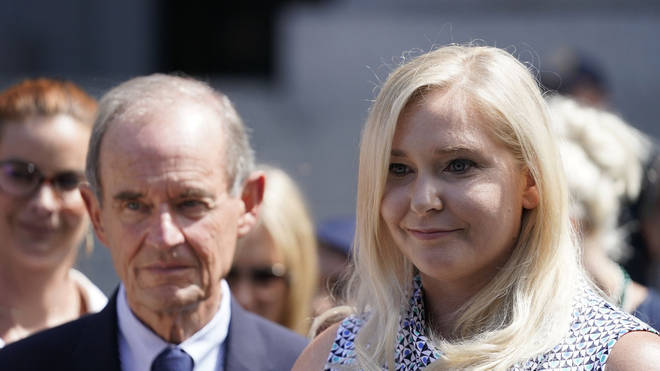 "Prince Andrew has never intended to malign Ms Giuffre's character, and he accepts that she has suffered both as an established victim of abuse and as a result of unfair public attacks.
"It is known that Jeffrey Epstein trafficked countless young girls over many years. Prince Andrew regrets his association with Epstein, and commends the bravery of Ms Giuffre and other survivors in standing up for themselves and others.
"He pledges to demonstrate his regret for his association with Epstein by supporting the fight against the evils of sex trafficking, and by supporting its victims."
Sir Keir Starmer said the settlement ends a "sorry chapter" and the focus should be on victims.
Read more: Pictured: Queen carries out first engagements since Covid scare
It comes hours after Ms Guiffre reportedly lost the original photo of the Duke of York with his arm around her at Ghislaine Maxwell's London home.
She claims it was taken on the evening she says Andrew first sexually assaulted her.
However, a source close to her told the Daily Beast: "The picture is not in Virginia's possession."
Lawyer Lisa Bloom, who represents eight victims of Jeffrey Epstein, welcomed the settlement as a "victory" for Virginia Giuffre.
She said on Twitter: "My statement on behalf of the 8 Jeffrey Epstein victims I represent:
"We hail Virginia's victory today. She has accomplished what no one else could: getting Prince Andrew to stop his nonsense and side with sexual abuse victims.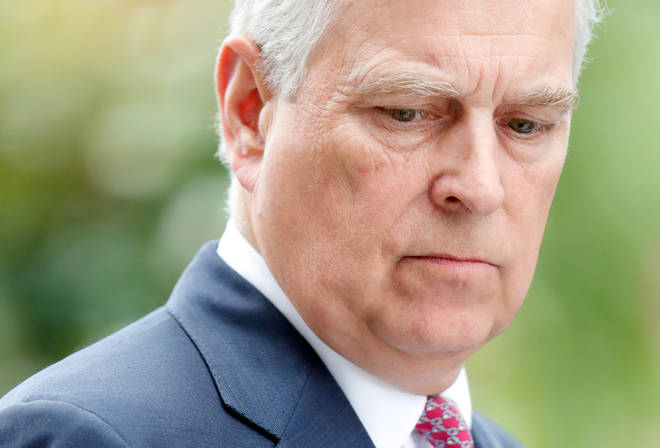 A second document, a letter addressed to US judge Lewis A Kaplan, said: "We write jointly with counsel for defendant to advise the court that the parties reached a settlement in principle of the above-referenced action."
It goes on to say the parties involved plan to file a "stipulation of dismissal of the case" within 30 days.
The letter, signed by Ms Giuffre's lawyer David Boies, concludes: "We appreciate the time and effort the court has devoted to this matter."
Ms Giuffre was suing the duke for damages in her home country of the US, claiming she was trafficked by his friend Jeffrey Epstein to have sex with the royal when she was 17 - a minor under US law.
Prince Andrew has vehemently denied all allegations against him.
Representatives for him said he would not be expanding beyond the statement filed in court.
When asked for comment, Virginia Giuffre's lawyer David Boies said: "I believe this event speaks for itself."
Read more: Matt Hancock broke rules over appointments of Test and Trace chiefs, High Court rules
Read more: Storm Dudley: Flood alerts issued as 90mph winds to batter UK
"We salute Virginia's stunning courage."
Royal author Penny Junor said the settlement made by the Duke of York is likely to come as a "huge relief" to the rest of the royal family.
She said: "Going to trial, it could have been very, very nasty.
"It could have been embarrassing, humiliating, and it would have been huge fodder for the tabloid press.
"It could have really taken the shine off the Queen's Platinum Jubilee year."
The duke demanded a jury trial last month while seeking to defend the civil sex case.
In a letter to Judge Lewis Kaplan, his lawyer, Andrew Brettler, set out a detailed response denying all of Ms Giuffre's allegations that she was trafficked by Epstein.
The legal papers contain a rebuttal of 41 of Ms Giuffre's claims, making the request for trial by jury.
Andrew was previously stripped of all of his military titles and Royal patronages by the Queen as the case went on.
Buckingham Palace declined to comment on the development.