Theatre Company Faces Backlash Over Millennial-Bashing Job Advert
18 July 2017, 15:49 | Updated: 18 July 2017, 18:34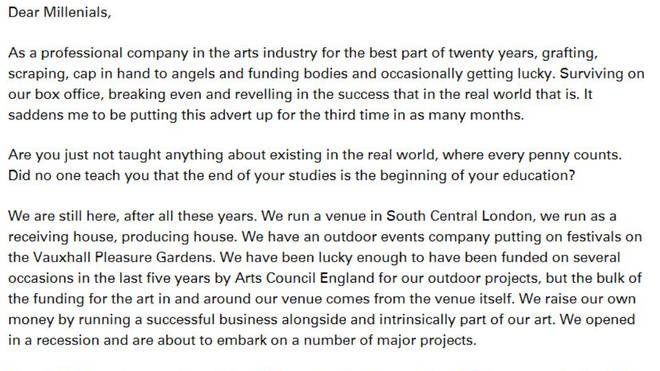 A London theatre company has come under fire after posting a controversial job advert which questioned whether millennials knew anything about the real world.
The Tea House Theatre in Vauxhall found itself under hot water after it posted the bizarre ad for an administration role which paid £15,000-£20,000.
The advert starts "Dear millennials" and then proceeds into a full on rant questioning the work ethic of young people, reading "it shouldn't be this hard" to find "a grafter, who can commit".
The company wrote it had not been "impressed so far" with the applicants received after "putting this advert up for the third time in as many months."
We're aware of a job that was posted on ArtsJobs that breached our terms (in this case targeting a specific age group) 1/2

— Arts Council England (@ace_national) July 18, 2017
Artsjobs is made up of user generated content and this job advert has now been removed 2/2

— Arts Council England (@ace_national) July 18, 2017
It has since been removed from the Art Council England website, who said it breached its terms by targeting a specific age group.
A "millennial" is usually applied to people who reached adulthood in the 21st century.
The questionable ad has come under attack after it began to circulate on social media.
One user wrote: "Dear Tea House Theatre, it's never good to advertise that you're entitled, patronising & abusive. Love Millennials x".
Another added: "Props to @TeaHouseTheatre for not even bothering to hide their nauseating contempt. Pro tip: 'Dear Millenials' is never a good opener."
LBC has contacted the Tea House Theatre for a response.