Train Boss Ordered Passengers Out Of First Class... To Take Up Two Seats
12 July 2018, 08:28 | Updated: 12 July 2018, 08:57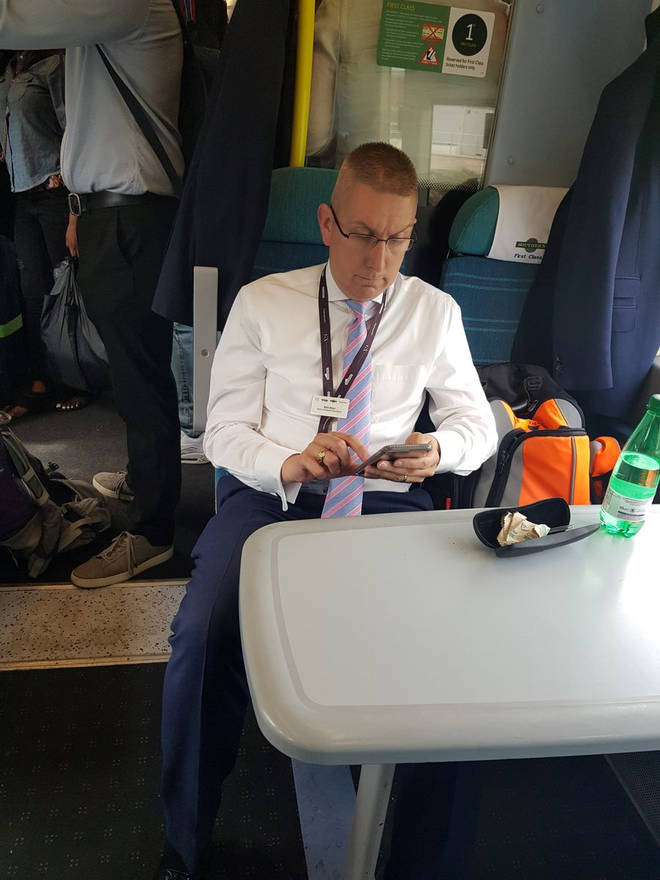 A Southern Rail boss told passengers on a packed train to get out of first class - and then took up two seats himself.
- Southern Rail: Long Read On How The Service Collapsed
Emma Fitzpatrick says Mark Boon, the Head of Operations of parent company Govia - told passengers to stay out of the empty cart on a "late and very packed" service.
He then spread out in comfort - placing his bag on the empty seat beside him - while customers had to squeeze into the rammed doorway and adjoining carriage.
The image has sparked outrage on social media among Southern Rail passengers who have endured months of delays amid strikes by staff.
Emma Fitzpatrick, who posted the picture, added: " "It was a London bound Southern Train that arrived into London Victoria at approx 11.45am this morning.
"I still can't believe it. He even handed his business card out to the people that he was turning away! Talk about rubbing salt into commuters wounds."
Mr Boon is Head of Network Operations at Govia Thameslink Railway, which operates Thameslink, Southern, Great Northern, and the Gatwick Express.
His LinkedIn profile boasts of a "career history spanning nearly 30 years that combines successful project management and day to delivery".
He was crowned 'Customer Service Manager of the Year' while working for South West Trains in 2015.
A Govia Thameslink spokesman said: "Passengers need a first class ticket to travel in first class and there were other people with first class tickets in this compartment.
"This was an 11am off-peak service running just six minutes late and, while the front coaches were busy, there were seats and space in the rear coaches, as Mr Boon explained."