Who Is George Soros And Is He Trying To Thwart Brexit?
9 February 2018, 08:15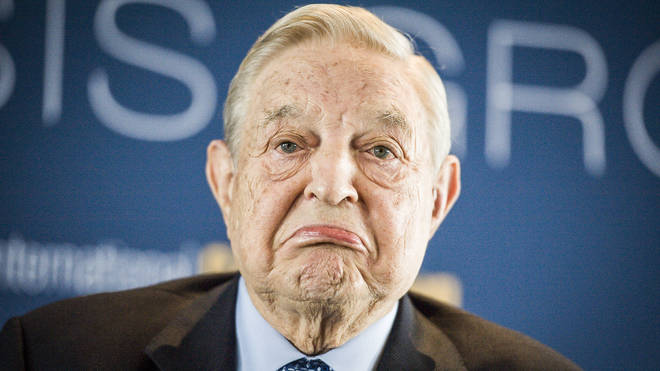 The Daily Telegraph and the Daily Mail have been criticising billionaire George Soros for trying to thwart Brexit. We profile "the man who broke the Bank of England".
Who is George Soros?
George Soros was born as György Schwartz in Budapest on August 12, 1930. In 1936, their family changed their name from the German-Jewish Schwartz to Soros, as protective camouflage in increasingly antisemitic Hungary.
He survived Nazi-occupied Hungary and emigrated to England at the age of 17. After graduating from the London School of Economics, he became a hedge fund manager, eventually setting up his own company Soros Fund Management in 1970.
How much money does George Soros have?
One of the most successful investors in the world, he is currently worth around $8 billion, after donating $32 billion to his philanthropic agency, Open Society Foundations.
Who broke the Bank of England?
So why have the newspapers called him "the man who broke the Bank of England"? During the 1992 Black Wednesday currency crisis, when the UK withdrew from the European Exchange Rate Mechanism, his short sale of US$10 billion worth of sterling made him a cool profit of $1billion. Black Wednesday is estimated to have cost the UK government £3.4billion.
What ethnicity is George Soros?
George Soros is referred to as a Hungarian-American Jew. He was born in Budapest, Hungary in a Jewish family. He moved to Britain in 1947 and attended the London School of Economics. After becoming an investor, he moved to the United States in 1956.
Why are stories about George Soros sometimes labelled "anti-Semitic"?
The name George Soros has become almost a euphemism for Jews by alt-right publishers like Infowars and Breitbart. America's antisemitic right-wing is convinced that Mr Soros is behind almost every conspiracy going - even as far as the Las Vegas shooting.
Critics of the alt-right believe the publications are using the phrase Soros when what they really mean is Jews. James O'Brien explains why he is so concerned in the video below.
However, Nigel Farage believes there should be an investigation into the influence that billionaire George Soros has over politics in the Western world.
What is Open Society and what does it mean to have a free and open society?
The Open Society Foundations work to build vibrant and tolerant democracies whose governments are accountable and open to the participation of all people. They say they are seeking to "strengthen the rule of law; respect for human rights, minorities, and a diversity of opinions; democratically elected governments; and a civil society that helps keep government power in check."
Is George Soros trying to block Brexit?
Pro-Remain group Best For Britain is campaigning for a second referendum on Brexit, with the hope of overturning the result of the referendum from June 2016. They say they want "to stand up for free speech, democracy and the right to fight this disastrous Brexit".
The group was founded by Gina Miller, the businesswoman who took the government to court over Brexit. They received a £400,000 donation from George Soros' Open Society Foundations to help their campaign.
Is George Soros a Democrat or Republican?
George Soros has been known to support Democrat Presidential candidates. Soros Fund Management donated over $7 million to Hillary Clinton's presidential campaign and has also donated to Barack Obama.
Who is Soros' fund manager?
Soros Fund Management still has a strong family influence. George's son Robert Soros is the Deputy Chairman and President of the company. Other key management figures at the company include David Wassong, the Managing Director and Co-Head of Private Equity and David Milich, the Chief Operating Officer.