Andrew Marr: Rishi rolls the dice by bringing Cameron back - but a more troubling question remains...
13 November 2023, 14:02 | Updated: 14 November 2023, 05:11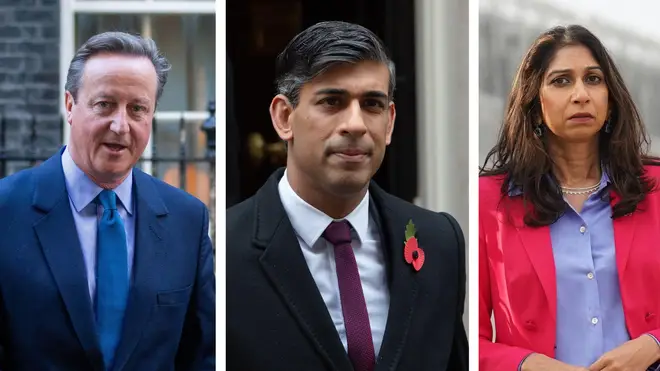 Rishi Sunak has rolled the dice: this is a massive political gamble by the Prime Minister. He had little choice but to sack Suella Braverman for her open nose-thumbing about the police last week.
The fact that the huge Palestinian demonstration in London went off almost entirely peacefully, and that the trouble came instead from the far right, suggested that Sir Mark Rowley, the Met commissioner, the voice of calm, had got the call right; and that made Sunak's decision all the easier.
Supporters of Braverman are meeting in Westminster this afternoon to decide what to do - and perhaps whether to launch a campaign to make her leader. I don't think they have the numbers.
They are almost certainly overreaching. They can damage the prime minister and the Tory brand still further but they can't achieve anything positive.
Read more: David Cameron made foreign secretary in shock move amid Rishi Sunak's cabinet reshuffle
Cabinet reshuffle LIVE: Cameron appointed foreign secretary and Braverman sacked as Sunak shakes up top team
The Sunak gamble is more to do with the electorate than parliamentary politics, however. Many people agree with her; there is a right wing, strongly anti-migrant agenda which the Conservatives dally with but rarely fully embrace.
Sunak has been ambiguous about his real feelings but this reshuffle suggests a shift back to the centre: he seems to be prepared to lose votes to Reform UK, and therefore, perhaps, some "red wall seats" with new Tory voters, in exchange for reassuring and shoring up the vote in traditional Conservative seats.
How will that play out? This takes us to the most obvious headline-grabber of the day, the appointment of the former Prime Minister David Cameron as Foreign Secretary.
This was quite a theatrical coup and mainstream Tory MPs were, by and large, delighted.
Read more: How can David Cameron be made Foreign Secretary when he's not an MP?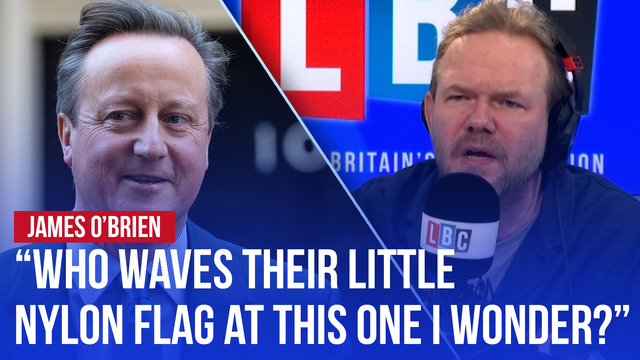 James O'Brien asks: Who actually's happy with David Cameron becoming Foreign Secretary?
Cameron will make Britain look just a bit bigger on the world stage – he is a very well-connected and senior figure with excellent political and business relationships in the United States, China and across the Middle East.
They will hear him in Washington and New York. On the crisis in Gaza, he is the kind of figure even Netanyahu may talk to.
This is all good. It is good for Sunak, and for Britain. But there is a big downside to the appointment as well. for many voters, Cameron remains synonymous with the social unraveling caused by austerity, and the huge gamble of the Brexit vote which blew up in his face.
Some Tory MPs fear he is too close to China in his recent business relationships, and the bubbling scandal of the Greensill lobbying affair remains something Labour will use against him relentlessly.
But far outside Westminster, there is a more troubling question still. Rishi Sunak reappointed Suella Braverman as Home Secretary in the first place, despite her breaking the ministerial code, because he needed MPs' votes from her supporters to become Prime Minister.
He had not been elected by the party membership, nor by the public.
Now he has appointed a man who is not an MP any longer, whose government he distanced himself from at the Party Conference and who will have to be hurriedly sent to the House of Lords, as Britain's new Foreign Secretary.
Voters may see this as a classic establishment stitch-up - when do they get a say? - and it certainly will be part of the Opposition attack in the weeks ahead as calls for an early election become steadily louder.