Mark Zuckerberg's Brussels Testimony: What EU Officials Want To Know
22 May 2018, 17:02 | Updated: 28 October 2019, 15:53
Facebook's CEO met EU officials in Brussels to address questions about the company's approach to data protection ahead of new GDPR rules and its position to distribute misinformation.
Facebook CEO Mark Zuckerberg sat through over an hour of questions from 12 European officials in Brussels as his company faces criticisms for its handling of the Cambridge Analytica row, and the distribution of misinformation on the platform.
The President of the European Parliament Atonio Tajani welcomed Zuckerberg's co-operation in allowing the session to be streamed live on the internet, including on the European Parliament's Facebook page.
Here's what happened during the 90-minute session.
Mr Zuckerberg started the session by attempting to swoon the officials present by promoting tools that allow Facebook users to find loved ones during terrorist attacks or helping about 18 million small businesses find customers, and that the company aims to employ 10,000 people across the continent by the end of the year.
"It's also become clear over the last couple of years, that we haven't done enough to stop these tools being used for harm as well," he said.
"I'm sorry.
"It's going to take time to work through all the changes we need to make here, but I'm determined to get it right."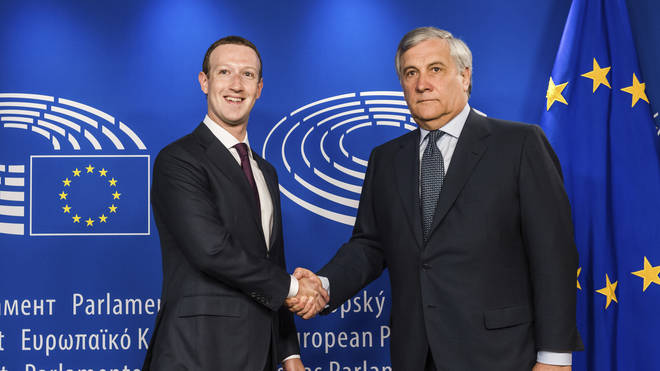 Is Facebook going to be completely compliant with GDPR on May 25th?
Mark Zuckerberg made clear that Facebook will be "fully compliant" with the new GDPR rules when they come into force on May 25th.
The General Data Protection Regulation (GDPR) can fine firms up to 4% of its annual global turnover, or €20 million (£17.5 million), whichever is greatest, for companies who fail to notify authorities about data breaches within 72 hours of first becoming aware of it.
"We're going even further to comply with these strong new rules, making these same new controls and settings available to people who use Facebook around the world," Mr Zuckerberg said.
He also described a new tool called 'clear history', that allows users to remove the associated data with their account - similarly to deleting cookies and cache in a web-browser.
Is the Cambridge Analytica just the 'tip off the iceberg' for Facebook?
Mark Zuckerberg described how Facebook has investigated "thousands of apps", and suspended more than 200.
The company launched investigations into apps using large amounts of data as a result of the Cambridge Analytica row.
What is Facebook's AI capable of?
On the subject of terrorism, Mr Zuckerberg said that 99% ISIS and Al-Qaeda content through artificial intelligence is flagged upfront before human beings through community tools.
"We've got the ability to employ tens of thousands of people to look over this content," he said.
"Around bullying, we had this really unfortunate set of incidents, when we launched Facebook Live, where we saw people harming themselves or committing suicide.
"We realised we needed to do a much better job of addressing that quickly, so we built AI tools to determine if someone was thinking about harm or suicide.
"We hired 3,000 people, so our response time so that we can get to those videos is less than ten minutes."
Mr Zuckerberg listed his priorities for targeting Facebook's AI tools as terror, bullying, self-harm, and election integrity, but that his overall goal was to have artificial intelligence and enough staff to be able to proactively review content "as it comes into the system".
But admittedly, he added: "It will never be perfect."
What happens next?
Mark Zuckerberg also faced questions about a 'social media monopoly' in Europe, as it operates not just Facebook itself, but Facebook Messenger, Instagram and WhatsApp. A couple of officials asked whether a break up of the company could be considered.
The CEO did not directly answer these questions, to the irritation of EU officials, but a response was offered in the form of a follow-up letter.
One official asked whether Facebook would consider making news feed algorithms public, in the name of transparency, but this was also not directly answered in the session.