The "Doctored" Jim Acosta Video Shared By Donald Trump's Press Secretary
8 November 2018, 13:03 | Updated: 8 November 2018, 13:57
The White House Press Secretary has been accused of sharing a doctored video showing CNN's Jim Acosta making contact with a Donald Trump aide.
Sarah Huckabee Sanders posted the video in a bid to justify the suspension of the reporter's White House press pass.
Mr Acosta was accused of "absolutely unacceptable" behaviour for "placing his hands" on a female intern as she tried to retrieve the microphone during an explosive Donald Trump press conference.
The CNN reporter and the President engaged in a war of words in what was a remarkable exchange over Trump's midterm election campaign.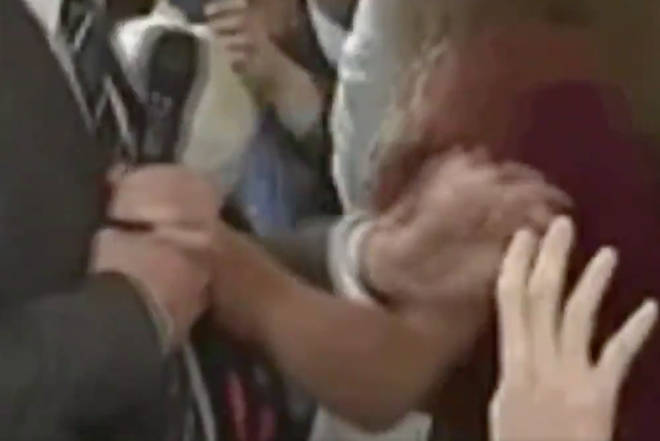 Footage showed Mr Acosta trying to hold onto the microphone while the female aide tried three times to take it from him.
On her final attempt, the journalist's hand blocked her arm before Trump walked away from the lectern and refused to answer any questions.
"We stand by our decision to revoke this individual's hard pass. We will not tolerate the inappropriate behavior [sic] clearly documented in this video," Ms Huckabee Sanders said.
Her tweet was posted alongside a video which repeatedly zoomed in on the aide's attempts to grab the microphone.
Social media users accused Ms Sanders of sharing footage that had been edited to make Mr Acosta's movement appear more aggressive.
"Sarah Sanders caught uploading InfoWars doctored video from her official gov account because the White House had an intern attack Jim Acosta to trump up false charges is peak Banana Republicanism - Sue her @CNN," one wrote.
"This is a new low even for you. Sharing a video that was manipulated is an assault on the truth. You should be fired immediately," another added.
You can see both the original moment and the video shared by the White House at the top of this page.
Let us know what you think...