Shocking Moment Lorry Smashes Through Petrol Station
5 December 2017, 15:01 | Updated: 5 December 2017, 15:20
This is the shocking moment a 16 ton lorry smashed through a petrol station forecourt in Johannesburg injuring a pregnant woman and several others.
The horrified garage worker, who clearly feared for his life, can be seen running to safety. He is believed to have been slightly injured by flying debris.
There were five people inside the car, including an eight month pregnant mother-to-be.
They had no chance to get out of the car as the lorry rammed into them.
It took almost an hour to free them with mechanical cutting devices.
All five were taken to hospital. The pregnant woman was in a "critical condition".
The front of their car was completely crushed in the incident.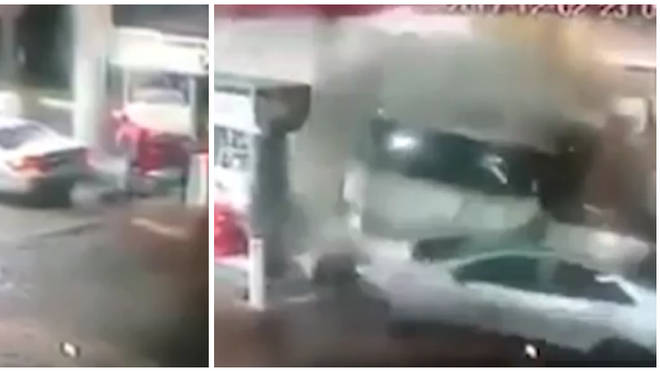 The headlights of the heavy goods vehicle can be seen on the CCTV before it smashes its way into the forecourt.
A CCTV operator can be heard on the footage saying "oh my word".
The lorry driver claimed he was not behind the wheel and was "teaching a friend how to drive". There was however no one else in the lorry with him.
A South African Police Service spokesman said an investigation was underway.