Alex Salmond's Heated Exchange With BBC Journalist Over Corbyn Hat
18 March 2018, 18:44 | Updated: 26 March 2018, 15:38
The BBC continues to deny photoshopping an image of Jeremy Corbyn with a Russian hat during a segment on Newsnight.
The Labour leader was criticised by members of his own party following his line of questioning after Theresa May's statement in Parliament on Wednesday.
Corbyn had said: "To rush way ahead of the evidence being gathered by the police, in a fevered parliamentary atmosphere, serves neither justice nor our national security."
During a discussion between Harriet Harman and Ed Miliband on escalating tensions with Russia, an image of Jeremy Corbyn against a red Kremlin skyline appeared in the background.
But critics were quick to point out the similarity between the hat Corbyn was wearing in the image with the Russian Bolshevik cap, with some claiming the image was photoshopped to make the Labour leader appear 'more Russian'.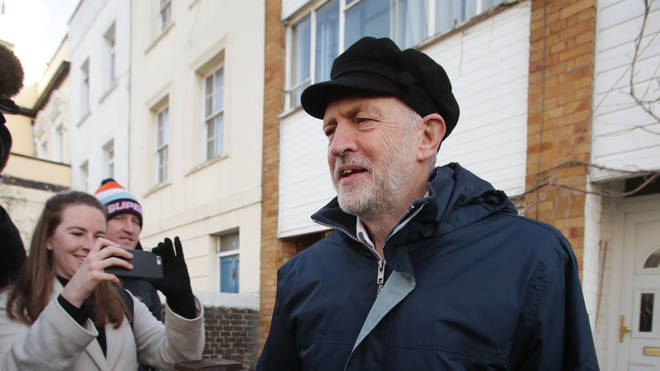 John Sweeney came to the BBC's defence by speaking to Alex Salmond during his Sunday show.
"Let's try to work out if the BBC did or did not photoshop the Jeremy Corbyn image" said Alex.
"No it didn't, no it didn't" Mr Sweeney said.
The Newsnight journalist was keen to change the subject, but Alex continued to press for an answer.
"I'm looking at this image, there's no doubt that in the picture of Jeremy Corbyn of a perfectly respectable hat with a peak, seems to have been transformed into red picture of Jeremy Corbyn against the Kremlin and the peak of the hat seems to have disappeared."
After a brief stumble, Sweeney's response was: "You're being silly Alex."
Alex continued: "Everybody's going to have the opportunity to take a look at this image.
"You can not come on as a serious journalist and say that picture, a perfectly innocent picture of Jeremy Corbyn, of an innocent looking hat has suddenly been transformed with a red background against the Kremlin and the hat seems to have been changed to make it look like a cossack!"
"If you want to interview yourself, that's fine. But they're not the words I used."
The exchange lasted over ten minutes, but Sweeney refused to offer any sort of apology to the Labour leader.
"All you have to do is say sorry!" Alex states.
"I'm not going to say sorry to anyone who works for Russia Today" Sweeney replies.
"You won't even offer the leader of her Majesty's opposition the apology which he is so absolutely entitled to.
"John do you really think even at that stage given what people can see from themselves in the social media that you on behalf of Newsnight on the BBC can say to Jeremy Corbyn we should not have presented you in that light because it was unfair."
Sweeney replies: "It wasn't photoshopped."
Watch how the row unfolded in the video at the top of this page.