'Utter hypocrisy!': Ben Kentish lambasts 'supposed LGBTQ+ ally' Jordan Henderson for Saudi Arabia transfer
29 July 2023, 15:05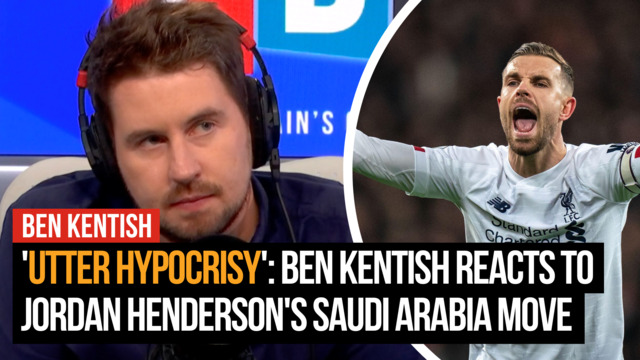 'Utter hypocrisy': Ben Kentish reacts to Jordan Henderson's Saudi Arabia move
Ben Kentish labels ex-Liverpool captain Jordan Henderson a "massive hypocrite" after he transfers to a Saudi Arabian club for triple his salary.
Henderson, 33, joined Al-Ettifaq this summer in a deal reportedly worth £700,000 a week - well above even the astronomical wages of a top Premier League footballer.
But the midfielder has received widespread criticism for his transfer, because of Saudi Arabia's intensely homophobic regime.
Ben Kentish said: "Liverpool captain and supposed LGBTQ+ ally Jordan Henderson has left Liverpool and moved to Saudi Arabian club Al-Ettifaq to triple his salary in a country that does not by law allow homosexuality.
"When it comes to Jordan Henderson, he has received a lot of criticism for that decision. He claimed to be an ally of LGBTQ+ people, he spoke up publicly about the difficulties they face.
"He spoke quite movingly, I thought, about what it would be like if somebody was gay, not being able to go and watch their footballer partner, or friend, or relative in a country like Saudi Arabia, yet there he is moving to Saudi Arabia."
READ MORE: Jordan Henderson's new Saudi club 'hides LGBT pride captain's armband' in awkward promotional video
Henderson has been branded a hypocrite after being an outspoken advocate for LGBT rights in the past, as well as wearing rainbow laces and a rainbow armband for Pride month.
Ben went on to say: "Now I think Jordan Henderson, and he is someone I previously respected a lot, is a massive hypocrite.
"I'm sorry, but you cannot, for years, claim to be an LGBTQ+ ally, say all these things about LGBTQ rights and then go and make millions of quid in a country that offers those people no rights at all."
"I think that is utter hypocrisy and I think, quite frankly it stinks. It's greed over principle," Ben hit out.
READ MORE: The 1975 cancel Indonesia and Taiwan shows after LGBT controversy