Caller Unhappy With Ian's "Attitude" Towards Potential UK-US Trade Deal
24 July 2017, 17:14
David was not happy with the tone Ian Payne was using when he spoke about a possible UK-US post-Brexit trade deal - so he called up to express his disappointment.
The LBC presenter had been talking about Liam Fox's trip to Washington DC, where he'll take part in two days of talks at the first trade and investment working group between the countries.
The Trade Secretary is reportedly open to importing chlorine-washed chicken from the states in order to secure a trade deal.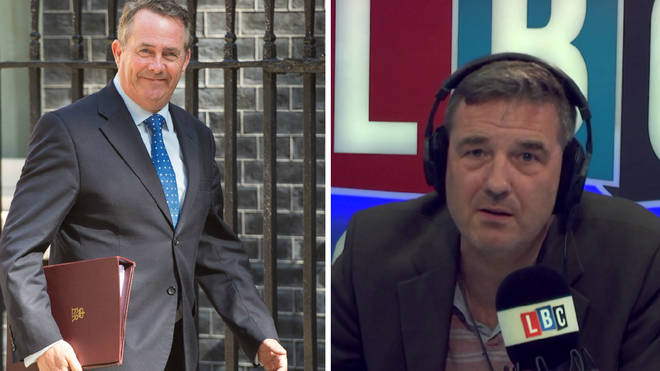 It's all because the American Farming Association is adamant any deal must included agriculture, meaning chlorinated chickens, hormone-fed beef and genetically modified crops could be exported to the UK.
"I'm a bit disappointed in you," David told Ian as he was introduced on to the show.
"It's just your tone, you're just really down about the whole trade thing aren't you?"
He continued: "People like you and the EU better remember that this island, Great Britain, there would be no Europe without Great Britain."
Ian asked how he'd sounded down, adding "I thought I'd been quite positive".
"No you haven't," Dave added. "You've got this tone in your voice which is just really down."
The caller then tried to comfort people's concerns about eating chlorine-washed chickens, saying: "Do you not go swimming? You get covered in chlorine every time you do it."