Do You Really Deserve Your Bonus, Matt Frei Asks Network Rail Chief
7 August 2017, 12:46 | Updated: 7 August 2017, 12:57
Matt Frei told the Chief Executive of Network Rail that the British train system is woeful as he asked: "Do you think you deserve your bonus?"
Today was the first day of the building work at Waterloo, which has seen platforms 1-10 closed for most of August.
The expected chaos didn't happen... until a signal failure outside the station caused big delays on the trains that were still running.
When Mark Carne, the Chief Executive of Network Rail, told Matt that British trains were the safest and fastest growing in Europe, Matt wouldn't let it lie.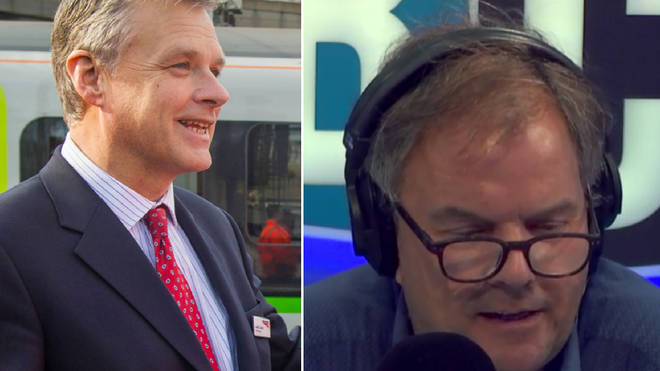 He told him: "I'm sorry. I travel a lot on trains in France, in Italy, Spain and Germany and I have to say the network rail system in this country is woeful by comparison to what we get in Europe."
Mr Carne responded: "I don't suppose you travel on the commuter trains in and out of Madrid or Paris. You travel on the high-speed TGVs.
"The Euro statistics don't lie. European benchmarking show we're the fastest-growing railway in Europe, we're the most intensively used in Europe and we're investing more in our railway than any other country in Europe."
But Matt asked: "Do you think you deserve your £50,000 bonus on top of your salary of £683,000 when consumer confidence in their commute is at an all-time low?"
Mr Carne insisted: "I don't have to justify my bonus. That's decided by independent executives. I don't decide it.
"I'm really proud of what we're achieving."