Farage Brands Sadiq 'Hypocrite' For Hosting Nations Who've Banned Israelis
1 February 2017, 10:31 | Updated: 1 February 2017, 11:28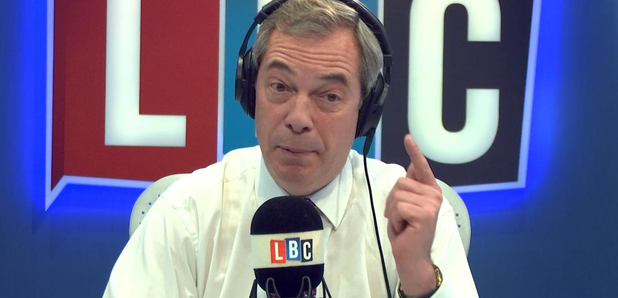 Nigel Farage hit out at "hypocrite" Sadiq Khan for hosting diplomats from 11 countries who have banned Israelis.
The Mayor of London hosted a reception last night with representatives from Bangladesh, Brunei, Iran, Iraq, Kuwait, Lebanon, Libya, Pakistan, Sudan, United Arab Emirates and Yemen, all of which do not allow entry to Israelis.
And after he had been so critical of Donald Trump's extreme vetting, Mr Farage told LBC that makes him a hypocrite.
Just before he went on air on LBC, he tweeted:
Why are there 11 diplomats from nations that ban Jewish Israelis at your meeting tonight? Why don't you oppose them? Hypocrite. https://t.co/n8Ql704TqD

— Nigel Farage (@Nigel_Farage) January 31, 2017
He followed that up by saying on his show: "The Mayor of London tonight, who has been really critical of Trump and wants him banned, is attending a social reception where he's going to meet the leaders or the representatives of eleven states that ban Israeli Jews from going to them.
"He has no problem that. I can't work it out."